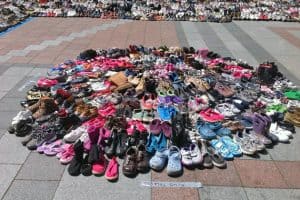 Just a quick reminder that Saturday, February 25, is the shoe processing event for Shoes for the Homeless and we need just one hour of your time:
· Time: 2 – 3 PM
· Where: 4123 Jackson Avenue, Culver City 90232
If this is your first time, we will ask you to complete a release form when you arrive.
Homeless people are in great need of adequate shoes. It is our goal and vision to help these individuals by providing them with a good pair of shoes. We are hopeful that providing shoes will significantly improve their quality of life and give them the ability to have comfort and protection for their feet.
Bring shoes – bring socks – Bring a friend! We look forward to seeing you!
Shoes for the Homeless is helping the homeless, one step at a time.