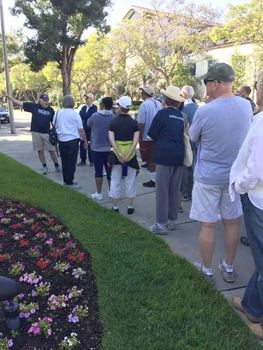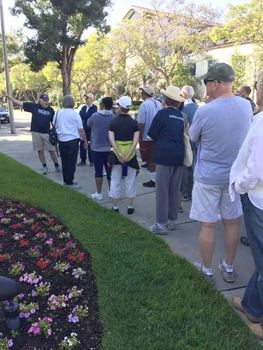 This coming Saturday, July 16 is the next "Walk With a Doc," convening at 8:45 a.m. near the Tennis Courts at Veterans' Memorial Park. Sarah Carpenter, MD, will speak for a few moments on two of our favorite subjects, "Sugar and Salt," followed by a warm-up by Culver-Palms Family YMCA Fitness Trainer Brandon Webb. Then it's off for an hour's walk-at-your-own-pace, ending up approximately an hour later back at the Park.
Memorial services for the late Elaine Goodyear will be held this Saturday, July 16, at 2:00 p.m. at Grace Lutheran Church, 4427 Overland Avenue.
If you have friends who are members of the Culver City Elks Lodge #1917, they may not be around this Sunday, July 17. From 9:00 a.m. – 3:00 p.m. they'll be happily (?) participating in the Lodge's annual Clean Up & Paint Day – and volunteers are always welcome. The Lodge is located at 11160 W. Washington Place, and as Elk's Call editor Lance Hudson says, "Be there or be square!"
If you missed it this past Sunday, you still have a chance to catch "Songs of Stage and Screen," at the Culver City Masonic Lodge, 9635 Venice Blvd. this coming Sunday, July 17 at 5:00 p.m. Local diva Marina Tidwell promises "comedy, drama, riotous, romantic, silly . . .you name it, we've got it." From "You Raise Me Up," to "Evil" to a solo from "Spamalot" plus one from "Suzannah," if you've ever seen a hit show or listened to the music you'll probably hear it Sunday evening! There is a $10/suggested donation at the door, but pay-what-you-can is fine, too.
Look out Downtown Culver City! This Wednesday, July 13, from 5:00 p.m. – 7:00 p.m. Women in Business Connect at Grilliant. This is a networking event JUST for women business professionals! Culver City Chamber of Commerce member Grilliant, a restaurant serving fresh and healthy Mediterranean cuisine specializing in kaboblogy, is host of this mixer, which provides a great opportunity to build a network of business connections, as well as taste delicious food accompanied by beer/wine. Grilliant is located at 3850 Main Street, with public parking close by at the Cardiff Avenue parking structure. (The first hour is free and then $1 each 30 minutes thereafter.) Cost for Chamber Members is $15; $20 for Not-Yet Members; or pay $25 at the door. You are asked to RSVP by 1:00 p.m. Tuesday, July 12, 2016 by calling (310) 287-3850.
This Wednesday, July 13, the Culver City Democratic Club invites you to its General Meeting, set for 7:00 p.m. in the Veterans' Memorial Building, where you can meet like-minded Democrats, enjoy free refreshments, and hear Dr. Tom Williams advice on how to review/comment on the Culver City Oil and Gas Environmental Impact Report.
Not to mention the 54th Assembly District Republican Central Committee meeting, which will be held this Tuesday, July 12 at 7:30 p.m. at Lenny's Deli, 2379 Westwood Blvd., in Westwood
The Culver City Rock & Mineral Club invites you to join them this Monday, July 11 for a "facet-nating presentation" by well-known faceter, Jean-Noel Soni. According to The Stone Set, Jean-Noel Soni is a rock star in the jewelry world. The San Francisco based gemstonecutter specializes in high-precision faceting and is the mastermind of his brand "Top Notch Faceting." His custom cut gemstone creations have won him many awards and elicit awe in anyone who encounters them. Soni takes the rough and sculpts it into gemstones that double as sculptural works of art, all while navigating the inclusions and fractures of their natural form. His finished products are described as "mesmerizing light shows that can be admired in the palm of one's hand or as a finished piece of jewelry. The most impressive part is that the innovative gem faceter is mostly self-trained." The meeting begins at 7:30 p.m. in the Multi-Purpose Room at the Veterans' Memorial Building, and visitors are always welcome.
Sisters Bea and Leah Koch, who always loved romance novels, are the booksellers at "The Ripped Bodice" bookstore, at 3806 Main Street in DTCC! The sisters are "lifelong romance readers and Bea even wrote her masters thesis on romance novels. Her thesis was titled, 'Mending the Ripped Bodice,' and we loved that the name. The Ripped Bodice poked fun at the tawdry reputation of romance novels." Their plan is to feature readings and other interactive events, so drop by and welcome them to Our Town!
As we write this on Saturday afternoon, we're heading out (no, not to the aforementioned bookstore) to explore Platform and take the Expo Line to the beach – has everybody else done this?
Birthday wishes go out this week to Joyce Perlick, Anita Agzarian (Rendon), Bruce Popkin, Mary Jane Petersen, Dariya Stenshoel, Patricia Stephan, Gabriel Koppula, and Joyce Elder. If you'd like your (or a friend or family member's) birthday mentioned here, just send the information to [email protected] and we'll be happy to post it!