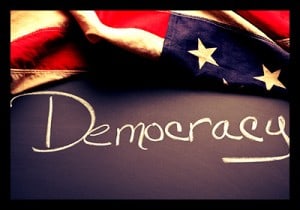 On April 12, Culver City High School was visited by an accreditation team from Los Angeles County to review its Democracy School program.
"I am excited to share that it was indicated to us that we will receive our Democracy School accreditation which will make us one of up to 10 schools in the state with this honor," said Kelli Tarvyd, Assistant Principal, Activities, Attendance and Discipline.
The accreditations will be presented on April 30 at the Ronald Reagan Library.
Thanks to the Centaurs in Action Team – Carlos Valverde, Lucas Plotnik, Jenny Ta, Mariah Fontijn, Jennifer Kochevar, Carina Diaz, Elliot Mende, Becky Breitweiser, Brenna Guthrie, and Laura Kilcollins on their hard work in implementing this program and preparing for the visit. Valverde took over for Tarvyd as Coordinator when she moved into and administrative position and has led the CCHS team to greatness.
In addition, the school has received the official letter and Certificate from the Judicial Council of California for the Civic Learning Award of Merit that CCHS received due to its Democracy School program.