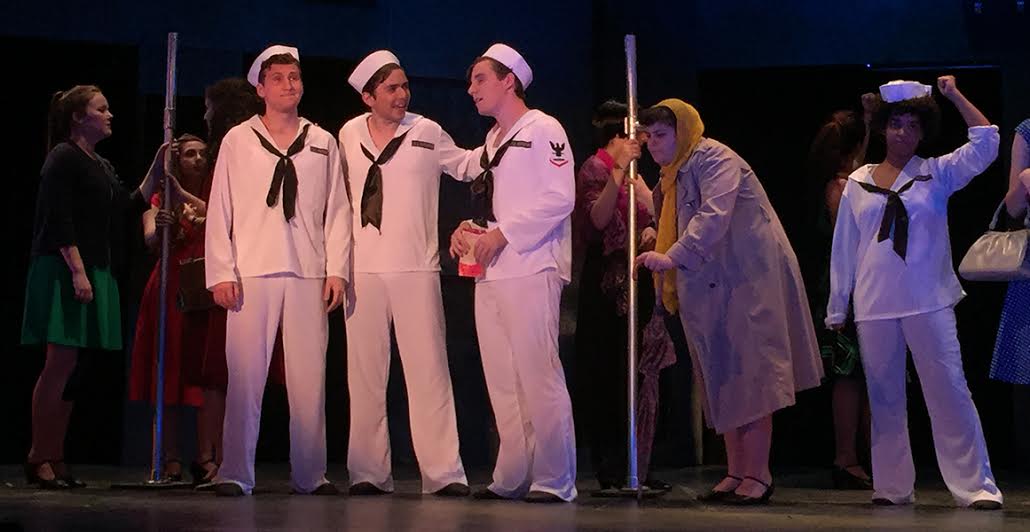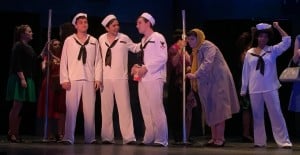 Introducing the song "New York, New York" to audiences worldwide in its 1944 Broadway debut, Leonard Bernstein and Jerome Robbins' classic American musical On the Town is coming to Culver City. The spring production of AVPA's Blurred Vision Theatre Company, directed by Jill Novick, will run March 11-13 and March 18-19 in the Robert Frost Auditorium at Culver City High School.
An instant hit that has enjoyed multiple revivals, On the Town follows the story of three sailors on 24-hour leave in New York City, encountering adventure, hijinks and romance along the way. The musical integrates dance into its storytelling and features several show-stopping ballets and dance sequences.
Leading the multi-talented cast are Culver City High School students Oliver Berliner, Reno Behnken, Sam Petersen, Emma DeZarn, Claire Skelley, Paxton Amor, Isabel Parra, Nick Freedson, Erin Hamill, Celine Quadra, Raegan Harris and Joey O'Neal, along with understudies Hazel Cupp, Isa Berliner, Sarah Toutounchian, and Ben Hilsberg. In the ensemble are Andrew Alvarenga, Mika Barocio, Katy Engel, Brook Francis, Clover Halperin, Frances Horwitz, Courtney Lundy, Mathew Mercaldo, Jenna Reynoza, Andrew Rodriguez, Carly Shiever, Tysaiah Stutts, and Lauren Wilson.
On the Town's creative team includes director Jill Novick, choreographer Julie Carson, music director Tony Spano, technical director and lighting designer Kirsten Opstad, associate technical director Ali Rubinfeld, set designer Michael Navarro, build/paint charge Jackie Eppinger, customer designer Amy Mazzaferro, and sound designer Will Schuessler. Heading the student crew are associate technical director Elise Park, production manager Gabe Lobet, and stage manager Cricket Cary-Green.
Showtimes include March 11, 12, and 18 at 7 p.m.; March 13 and 19 at 2 p.m.; and March 19 at 8 p.m. The March 19 show will feature understudies. Tickets are available at the box office prior to performances. Prices: $15 for adults; $10 for seniors, CCUSD staff and high school students; $5 for CCHS students with ASB cards and CCMS students; free for children in elementary school and younger with an accompanying adult.
The Robert Frost Auditorium is located at 4401 Elenda St., Culver City, CA 90230.
About AVPA
Since 1996, the Academy of Visual and Performing Arts (AVPA) at Culver City High School has inspired and empowered students to build a compassionate, creative community through innovative and challenging arts education. AVPA enjoys tremendous support from organizations including Sony Pictures Entertainment, Center Theatre Group, Playa Vista, and West Los Angeles College, as well as the Culver City community. To learn more, visit www.avpa.org.