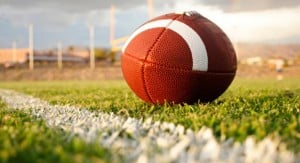 Culver City High faces University High School for the first time. Both teams come in at 2-1, looking to either get even, or fall way behind
The Centaurs got off to a slow start and are plagued by penalties in the first quarter. Every time something went right, Culver City was hit with a holding or pass interference. They continue to shoot themselves in the foot creating a 45 minute first quarter. Culver City's first Punt of the game is blocked at their 21 yard line. University quickly capitalizes with the short game and a 21 yard touchdown run. Pass interference was also called against the Centaurs, it was declined in lieu of the touchdown. Culver City was also penalized twice on the Point after touchdown attempt, costing them 20 yards on the ensuing kickoff. Unique kicked from there 40 yard line, a squib kick giving the University Wildcats great field position.
On the Centaurs drive, the penalty parade continues as QB Jonathan Martin had a big gain wiped out by holding.
Quickly another gain up the middle by #4, senior running back Frederick Poindexter (5'10" 180 lbs). This would not be the last time Poindexter's name was called out as our first standout of the night for Culver City appears. An incomplete pass and a dropped ball bring the Centaur drive to a halt. An interception by the Wildcats #5, senior inside linebacker, 6' 0" and 220lbs.
A quick 32 yard reception for senior wide receiver Kyle Johnson, a cross sport athlete who plays basketball and volleyball as well as football. This long completion shows that the Centaur quarterback, # 7, sophomore Jonathan Martin, is also warming up nicely. Directly following Johnson's catch was Poindexter on a 14 yard dance to the end zone.
The Culver City defense is also coming alive with another interception. Then, after a short gain by Poindexter, QB Jonathan Martin keeps and gets into the secondary and lights the afterburners, a 79 yard touchdown run.
Midway through the third period, Poindexter continues to gather carries with two key first down runs. QB Jonathan Martin stays solid with the Drive capped buy an 18 yard leaping touchdown catch by Kyle Johnson. The extra point attempt is blocked, and Culver City takes a 20-13 lead. After a Uni punt, the Centaurs drive again and Martin scrambles in with a 1 yard touchdown run. 11:55 to go in the 4th, Culver City is up 27-13.
Another Uni drive fizzles with a long third-down incompletion, only to watch the Centaurs score again with a 52 yard run. Score Culver City, 34 to 13 for Uni. The route is officially on.
To make it interesting, Uni, with good field position, improves it further with a personal foul called against the Centaurs. Then, on a 4th and 2, Uni #12 senior Charles Adams, defensive end, 6'3" 215 lbs, takes the ball 30 yards. The a 16 yards score and 2 point conversion at 6:07 in the 4th quarter, brings the match to 34-21, in favor of Culver City.
Then, after getting the ball back, Uni serves up an interception to #3, junior defensive back, Mekhi Ware, his second of the game. With 3:08 left in the 4th, this was the dagger.
The final score, Culver City 34, Uni 21. The Centaurs fought hard as a team and scrapped out a solid win. Culver City raises its record to 500 at 2 & 2. Uni falls to 1 & 3. All games have been non-league play, which starts in two weeks after first heading to Channel Islands next week. The Centaurs will host Lawndale, 3-1, to start conference on October 9th.
Editor's Note – Culver City Crossroads is happy to welcome Steve Trilling as our new sports columnist.