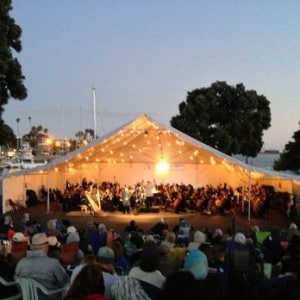 The Culver City Symphony Orchestra heads west to become the Marina del Rey Symphony for our summer concerts at Burton Chace Park, Marina del Rey. Get to the beach for another fantastic summer at the water's edge in one of Southern California's most beautiful spots to hear Classical Music. Programs and parking information are below. All concerts are admission free. Make it a mini/micro staycation. Escape the heat. Bring a picnic, a jacket, a blanket to sit on.
If you bring a chair, please make sure it has a low back to not obstruct the view of those
behind you. Watch the boats in the Marina and the clouds roll by, feel the ocean air on your face. Tune out the day and tune in to Classical Music along the water.
The summer concerts are solely funded by Los Angeles County, Department of Beaches and Harbors with the much appreciated support from Los Angeles County Supervisor Don Knabe. We thank Supervisor Knabe for his support and vision for these special concerts. If you attend these concerts, why not send Supervisor Knabe a note of thanks for his vision and efforts:
Burton Chace Park 13650 Mindanao Way Marina del Rey, CA 90292
Parking
County Lot 4: 13500 Mindanao Way, West of Admiralty Way-fee as posted County
Lot 5: 4545 Admiralty Way, entrance on Bali Way-fee as posted County
Lot 77: 13560 Mindano Way, West of Admiralty Way-fee as posted
Thursday, July 2, 7:00PM
Opera at the Shore
Emerging opera stars from the Loren L. Zachary National Vocal Competition
performing along the water in arias and ensembles from best-loved operas
in this always popular concert.
Maestro Frank Fetta conducts the Marina del Rey Symphony.