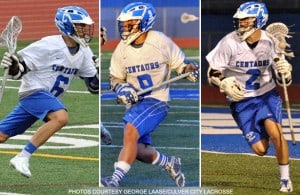 All-Ocean League, the local standard for Lacrosee the set end of the season rankings with Culver Cit coming in second to El Segundo at the top of the list. Lacrosse Coach Brooks Roscoe of El Segundo (13-5) was named Coach of the Year. 
The El Segundo boys lacrosse team captured the Ocean League title in its first season in the league, defeating Culver City 12-11 in its regular-season finale in May.
League runner-up Culver City (7-11) had seven players named all-league, led by Most Outstanding Player Elliot Stanger, a senior midfielder. The Centaurs also have first-team selections in junior attack Peter Pina, senior middie Nick Vu and junior LSM Anthony Overton.
Ffteen of the 25 players selected All-Ocean League are underclassmen, which bodes well for the strength of the league going forward.