Bring the family for fun-filled, improvised performances by CCMS's Comedy Improv Troupe. In its 6th successful year, CCMS Theatre Arts is offering six wildly different performances at the Robert Frost Auditorium. If you have a 5th grader at any Culver City Elementary School, their tickets are free when they bring along an adult wtih a paid ticket.
The program is directed by professional improv performers Jennifer Flack, Eric Price, and Scott Passarella. All are award-winning teachers who have extensive professional performance and teaching experience. Scott Passarella also provides piano accompaniment for musical numbers, and 72 enthusiastic and innovative Culver City Middle School students compose the Comedy Improv Troupe.
Similar to professional improv performances, students accept audience suggestions for skit topics. Each skit – the characters, conversations, actions and resolution – will be entirely made up on the spot by the CCMS students from the suggested topics. This style of performing requires confidence, adaptability, creative thinking, and extensive practice. The students have been practicing since September; some eighth graders are in their third year in the program, along with many returning seventh graders from last year and sixth graders new to the program.
Teacher Jennifer Flack explains the teachers' role: "While encouraging play and discouraging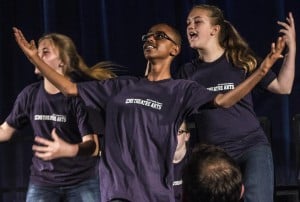 hesitancy, we teach them to be kind to themselves and each other, face fear, take pride in their ideas, celebrate and have confidence in themselves and each other, perform to the top of their intelligence and work as a team. These are performance skills and they are life skills. We are extremely proud of the CCMS Improv Troupe and what they have accomplished."
General admission tickets are $10 for one show, $15 for a one day pass and $20 for a weekend pass; student and CCUSD staff ticket prices are $5 for one show, $10 for a one day pass and $15 for a weekend pass. Advance ticket sales are available.
For more information, please check out CCMS Theatre Arts on Facebook.
4401 Elenda Street, Culver City:
Saturday May 16: 1:00 PM 4:00 PM 7:00 PM
Sunday May 17: 1:00 PM 4:00 PM 7:00 PM
All 5th grade CCUSD students will be admitted FREE to every show with a paid adult ticket!
There is no limit to the number of shows each 5th graders may see, but must be accompanied by a paid adult at each show.