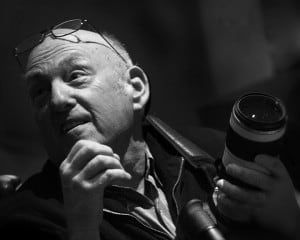 MCLM is please to host the opening reception for Bob Barry "Performance Portraits" exhibit @ Mayme Clayton Library & Museum at 4130 Overland Ave. in Culver City on Saturday, Sept 13 from 2:30 to 7 pm . In addition, there will be a screening of Dailey Pike's documentary "Bob Barry- Jazzography in Black and White" at 1:30 pm in the Courthouse Theater, followed by a Q & A with Pike and Barry.
Bob Barry is in his third major career, but they've all been in the arts. He's been an actor, a nightclub entertainer and photographer, each built on a foundation of a love and admiration for the talents—and fearlessness, of the performer.
Bob started out of college as a young musical comedy actor in New York, and as part of touring companies around the country. He did all the things that young actors do: summer stock, and many television commercials. Then he became a nightclub entertainer in hotel lounges; in mafia nightclubs—usually performing with a duo or group. It was during this time he picked up a camera, and started photographing performers.
But this wasn't the first time photography had been part of his life. While living in New York during the late 1960's, Bob met the iconic photographer Diana Arbus. "What I learned from looking at her work and getting to know her was that photography was about people—it's about feelings. It's about getting to know people. She tweaked the door open for me, to go into the direction that I eventually became a profession."
Bob's current incarnation of his creative life became well defined in the 1980's and 1990's in Los Angeles. He became very close friends with a large enclave of Jazz musicians, singers, and performers. "I have a strong feeling for Jazz, and I've always had that as a young man." The performers could see his passion come out in his work, and invited him into their world to archive, and bring their music, and their performances to still images.
The first 50 people who attend the SCREENING will receive a free DVD of "Bob Barry-Jazzography in Black & White"
Refreshments will be served.
Questions ? Call 310-348-4500