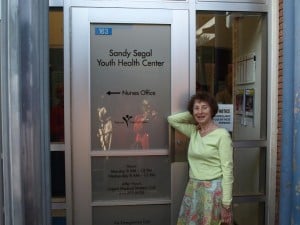 "I'm talking about a very dear friend of mine," retired high school teacher and current school board vice president Nancy Goldberg began as she addressed the afternoon crowd in front of the school complex, "and if I start to cry, well, you will just have to accept it."
Goldberg was not alone in her effusive thanks. As the wind blew across the lawn in front of the Culver City Middle School on Tuesday, April 22, tables and chairs were laid out for a formal occasion – the re-christening of the Youth Health Center after it's founder and main support, Sandy Segal.
The folks filling the chairs had spent a lot of time working with Sandy – the nurses she recruited, the fundraising friends, the partnership organizations, and many of them had been working with her since the inception of the center.
"It was 1986, and I knew we had a need," Segal said when it was her turn to address the crowd, speaking into the microphone held by her husband, Marty. "We still have that need, and I know that our kids have a place to get their needs met, if it's a physical or mental health problem, or just someone to listen, they know they can come here."
With accolades from the city, presented by City Council member Jim Clarke, appreciation from the district by Superintendent Dave LaRose, applause from the Venice Family Clinic, and the Los Angeles Child Care Center (both supporting partners of the center) Sandy had a good armful of folders and plaques to put down before she went to cut the ribbon.
The center's success is impressive, with an average of more than 700 kids coming through per month. Thanks to the center and the education and aid available, Culver City High School has one of the lowest teen pregnancy rates in the state.
The rooms had been freshly painted in honor of the naming day, and a tour through the facility showed how space was utilized for counseling and exams for physical and emotional problems. Posters on the walls addressed good nutrition (eating disorders are rampant among teenage women) the effects of alcohol and drugs on the body, and of course, sex and the risk of consequences without protection.
How many lives have been saved, how many problems solved by the center we'll never know. But we do know that, thanks to Sandy's decades long efforts to keep the doors open and the clinic operating, the students of Culver City have someplace to go where they can get confidential and professional help for problems that they may feel they have no where else to turn.
Keeping the doors open – well, that takes a village, and you can donate to the center at
Friends of the Culver City Youth Health Center
P.O. Box 4059
Culver City, CA 90231-4059
The Friends is a 501c(3) charitable non-profit. Contributions are fully tax deductible
Federal Tax ID 95-4209374
Photo courtesy Jessica Beagles-Roos