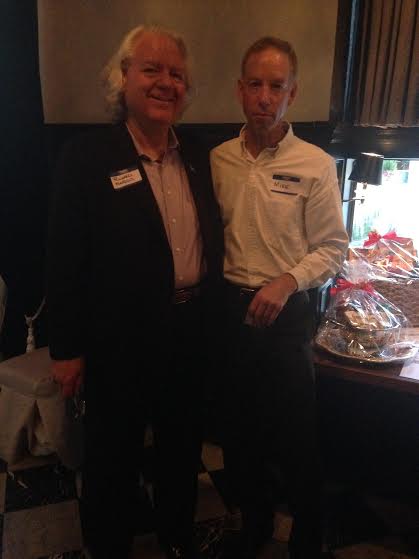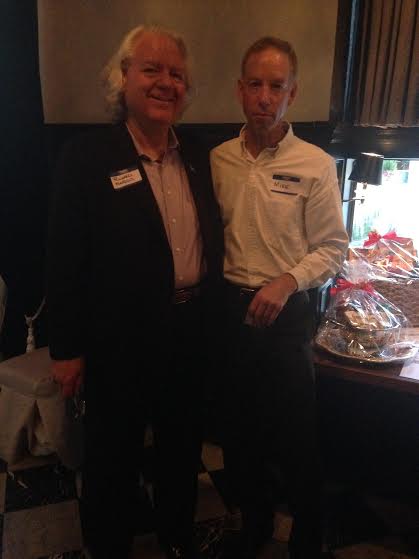 The fundraiser held for Christopher Patrick King at the Culver Hotel on Wednesday, March 26 filled the "Crystal Room" with a gathering of supporters which included friends, neighbors, professional and personal associates, and family. Coordinated by former School Board President Barbara Honig, and Democratic Club Secretary Pat Levinson, the theme of "From the Gilded Age to the New Age" was present throughout the room. The historic hotel transported guests back to the Gilded Age and the presence of young voters brought them into the "New Age." The campaign awarded costume prizes to Sharlene London, Neil Rubenstein, and Maureen Gentemen who dressed in their vintage best. Mike "Mr. Culver City" Cohen (pictured left with former Culver City Mayor Richard Marcus) served as MC and kept the party going throughout the evening. When Chris had a chance to speak between handshakes and hugs, he thanked everyone for supporting him in his first time run at public office and reminded them that there are still a couple weeks before the election with much more work to do. The spirit of the fundraiser mirrored the message of the campaign to move Culver City forward with renewed passion and a forward thinking vision while honoring our unique history. His message of wanting to bring bold leadership and a new perspective to the city by serving on the council is being heard by voters.
While the fundraiser did well, in the end of the day, the election will be decided by the voters. The CPK campaign encourages everyone to go out and vote on April 8th. The greatest impediment to democracy is voter apathy. In the last election, less than 20% of the population elected our leaders. Go out and vote, for democracy and for Culver City.
Chris can be emailed at [email protected].