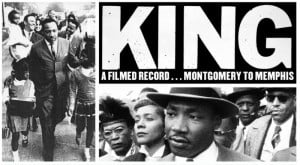 To celebrate the extraordinary life and work of Dr. Martin Luther King, Jr., Black Talkies on Parade presents the rarely seen 1970 Academy Award Documentary Nominee, King: A Filmed Record…From Montgomery to Memphis. Few films have captured the all-encompassing life of Dr. Martin Luther King, Jr. and this landmark masterpiece does so to impressive results. Directed by film legend Sidney Lumet, King showcases rare newsreel footage, intimate glimpses of Dr. King as he pursues his life's fight for social equality, and interviews from notable celebrities including Ruby Dee, Harry Belafonte and Sidney Poitier, to paint a vivid picture of one of the most indelible leaders of the Civil Rights Movement. The film's lasting social impact was recognized in 1999 with an induction into the National Film Registry, an honor bestowed to those films deemed culturally significant by the United States Library of Congress.
Join us for a riveting cinematic experience declared by the Philadelphia Bulletin as "Perhaps the most important film documentary ever made."
The afternoon will be hosted by Lloyd Clayton with a post film discussion led by Les Wills. Please note, due to the film's 185 min. run time, there will be a 10 minute intermission during the film.
Black Talkies On Parade  
King: A Filmed Record…From Montgomery to Memphis 
Saturday, January 25th 2014

at

4:00 pm
Screening is FREE!
Address:
Mayme A. Clayton Library and Museum
4130 Overland Ave.
Culver City, CA 90230
310-202-1647
www.ClaytonMuseum.org