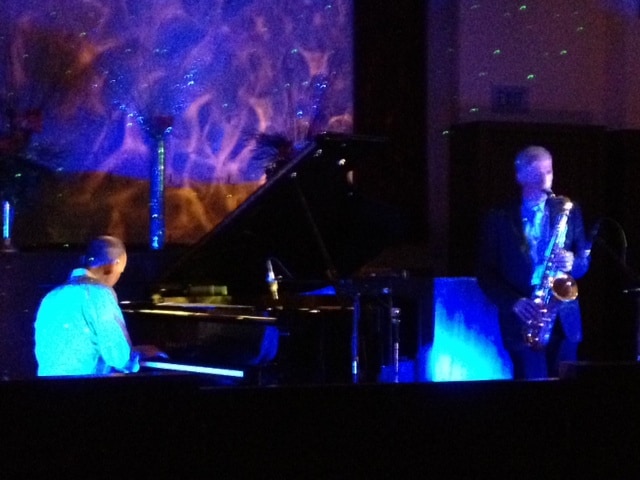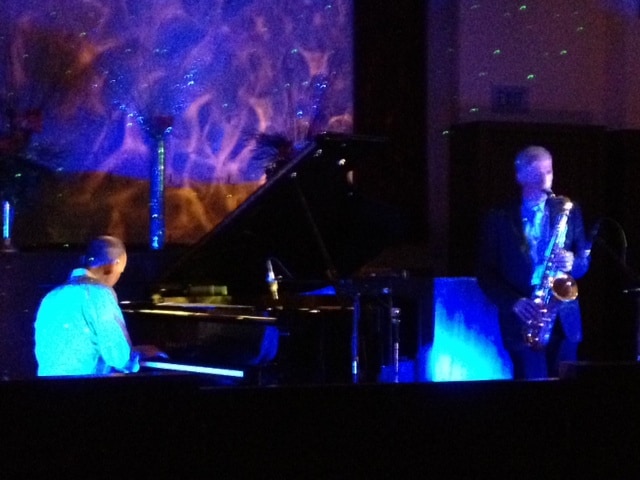 Culver City is known throughout the world as the Heart of Screenland, but in recent weeks it could also be called the Heart of Jazz. With concerts at the Kirk Douglas Theater and now at the Mayme A. Clayton Library & Museum, Culver City is becoming a hotbed of swinging rhythms and head bobbing improvisations.
On February 8th, Ruth Price and the Jazz Bakery put on an ambitious and well-attended show at the Kirk Douglas Theater featuring the group 3 Brave Souls, celebrating the release of their latest self titled CD. The group's lineup includes pianist John Beasley, Ndugu Chancler and bassist Darryl Jones, all of whom have impeccable credentials and have played with everyone from The Rolling Stones in Jones' case, to Miles Davis and Michael Jackson.
On this night however, the group's drum chair was handled admirably by Ronald Bruner Jr., as well as special guest vocalists Dwight Trible Jr. and Nayanna Holley. The trio was anchored by the plucking and funky bass playing of Jones, along with the innovative keyboard stylings of John Beasley who effortlessly switched from electric synthesizer to acoustic piano. Easily one of the highlights of the show was the vocal talents of Trible Jr. and Holley.
Culver City residents may remember his memorable performance at Ruth Price's outdoor concert she helped put on last summer at City Hall and once again, Trible Jr. did not disappoint. Once a rhythm is established on any tune, he is able to improvise around the original melody line while bringing forth such passion and intensity that it is impossible not to be moved and transfixed by his talent.
Coming up in February at the Kirk Douglas courtesy of the Jazz Bakery will be Latin jazz legend Poncho Sanchez and his Latin Jazz band on Sunday February 28th, which is sure to be a smoking hot show. Anyone who has seen Sanchez and his band play, know that his players always deliver, while Poncho continues to hold forth as the merry leader who duefully plays his well known hits, but also spices things up with a different repertoire for each show he puts on. More info on the full Jazz Bakery calendar can be found at http://jazzbakery.org/.
Not to be outdone, the Mayme A. Clayton Library & Museum located on Overland Boulevard across from the Veterans Memorial Auditorium is putting on a very eclectic and bold selection of jazz concerts at their intimate venue called Jazz at the Clayton. Following February 7th's show with alto sax genius Charles McPherson and pianist Eric Reed, the folks at the Clayton brought in tenor saxophonist Bob Mintzer and pianist Russell Ferrante, both members of the successful jazz fusion group The Yellowjackets.
As told by one of the members of the American Arts Trust (who is helping to put on these concerts) before the performance, the concerts are taking place in a former punitive courtroom, now made into a very intimate arts space. If you didn't see the swinging door towards that would have lead to the judge's bench and the jury box to the left of the stage, you would not know this was a former courtroom.
Done up in a retinue of jazzy blue lighting, the space looks exactly like a jazz venue should and with superb acoustics as well, this is a fantastic place to hear jazz masters at work. Mintzer is a soulful, yet technically proficient sax player who can play faster hard bop tempos, to masterful ballad solos over such classics as "Everything Happens To Me." Ferrante is a solid accompanist when he's helping to move Mintzer to epic solos, but is also a strong player and improviser himself. There is nothing harder than playing as a duo without a full rhythm section to fill out the sound and rhythm, but they both do it with ease.
I would recommend anyone attending the rest of these shows at the Clayton, which includes violinist Karen Briggs and legendary singer/songwriter Patrice Rushen on Thursday, February 21st, followed by harpist Carol Robbins and vocalist Carmen Lundy on February 28th. This is a wonderful organization which is dedicated to supporting the arts and nurturing our souls in this fast paced metropolis we live in, so any support given to this non-profit is appreciated and goes to a good cause. More info on the rest of the concert series can be found at claytonmuseum.pingg.com/. Love live jazz in Culver City!