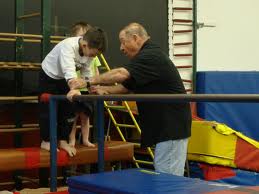 Editor's Note – This memory of Dave Rabb ran in the Los Angeles Times. We are scooping it here to let people know that Dave has passed, and to offer a space to share memories of this wonderful teacher who was such a great part of our community for so long. Comments at the bottom will post, and we would love to hear your stories.
One morning 13 years ago, I brought my young son to a storefront children's gym in Culver City. Ezra had recently been diagnosed with autism, and someone — a doctor or a therapist — had suggested that Dave Rabb could help.
I don't remember what I expected, but not the man I met: Dave was short and sturdy, in his 60s, with a Brooklyn accent and an attitude to match. I told him I wasn't sure Ezra would be able follow directions — at 4, our son was remote and distracted and rarely made eye contact — but that I could help.
Dave didn't need my help. He told Ezra to leave his shoes in a bin near the door, then led him onto the carpeted gym floor. Over the next hour, I watched from a bench as this man with his gravelly voice directed my son through an obstacle course of ramps, ladders and slides. To my astonishment, Ezra listened. Following Dave's directions — firm, direct, precise — my son made his way around the perimeter of the room with quiet intent.
For another child that might have been a simple feat. For Ezra, it seemed nearly miraculous.
I thought of that morning when I learned recently that Dave Rabb had died at 78 after a battle with pulmonary illness. People often ask me which doctors or therapists have been the most helpful in raising Ezra, who's now 17. My answer: What matters isn't the degree or title but the person's ability to make a genuine, caring human connection.
I learned that from Dave, who had no advanced degrees and learned his people skills on the streets of Brooklyn's Sea Gate neighborhood. He was rough around the edges, a onetime drill instructor who playfully shouted commands at kids and routinely cracked off-color jokes for the entertainment of the parents on the sidelines.
Dave Rabb's Children's Fitness Center wasn't fancy. The pads and ladders looked like they dated to the Ford administration, and they did: The gym opened in 1976, long before kids' gyms seemed as common in L.A. as yogurt shops.
Dave had not a whit of pretense. What he had was heart — and a child's appetite for fun. Ezra's occupational therapists would talk about proprioceptive input and sensory integration. Dave? He'd direct a class of kids to lie on the floor, roll a giant, inflatable hot dog over their bodies, and watch them giggle. He would have Ezra scurry up a wooden ladder, ring a bell with his toes and announce "Ta-dah!" He piped in circus music while children practiced on trapeze.
Ezra learned motor skills and gymnastics techniques — how to vault, how to execute a seat-drop on a trampoline. But mostly he learned something the therapists and educators left by the wayside: carefree, silly fun.
One summer Dave invited Ezra to a day camp he ran for a few children with special needs. There were no releases to sign, no medical insurance forms. He just loaded a bunch of kids into his car and drove them to the beach, where they played in the sand and roasted marshmallows.
Dave had spent a dozen years as athletic director of the Los Feliz JCC before he opened the gym, on a block he shared at the time with a gun swap shop, an Army recruiter and a credit dentist. Almost immediately it attracted a following. For a time, his clientele included the kids of celebrities like Michael Landon, Susan Dey and Matt Groening, "The Simpsons" creator. "I didn't know who half of them were," he once told me.
More recently, his focus was on children like Ezra, kids with autism and other developmental disabilities. Dave wasn't much for labels. To him they were just kids, and like all kids they needed to have fun. He taught them, and though he was well into his 70s, Dave seemed to draw energy from playing with toddlers.
It was only in recent months that his illness slowed him down. When I heard in December that he planned to close the gym, I paid a visit just days before he retired. The place hadn't changed much, nor had Dave. We sat on that same bench where I'd sat that morning years earlier, and I listened to him reflect on his life and work.
He told me that too many parents were afraid of their children, intimidated by the task of raising them. "What I've tried to do," he said, "is give parents the tools to appreciate their kids, to notice the same things that knock me out every day, watching them."
His retirement plan was to move to Hawaii with his wife, Marilyn, to be near one of his two adult daughters. And he was going to write a book. The working title: "How to Be a Fun Parent."
I told him he'd already taught that, to me and to countless others.
Tom Fields-Meyer, a Los Angeles writer, is the author of the memoir "Following Ezra: What One Father Learned About Gumby, Otters, Autism, and Love from his Extraordinary Son."
Photo courtesy of Dave Rabb