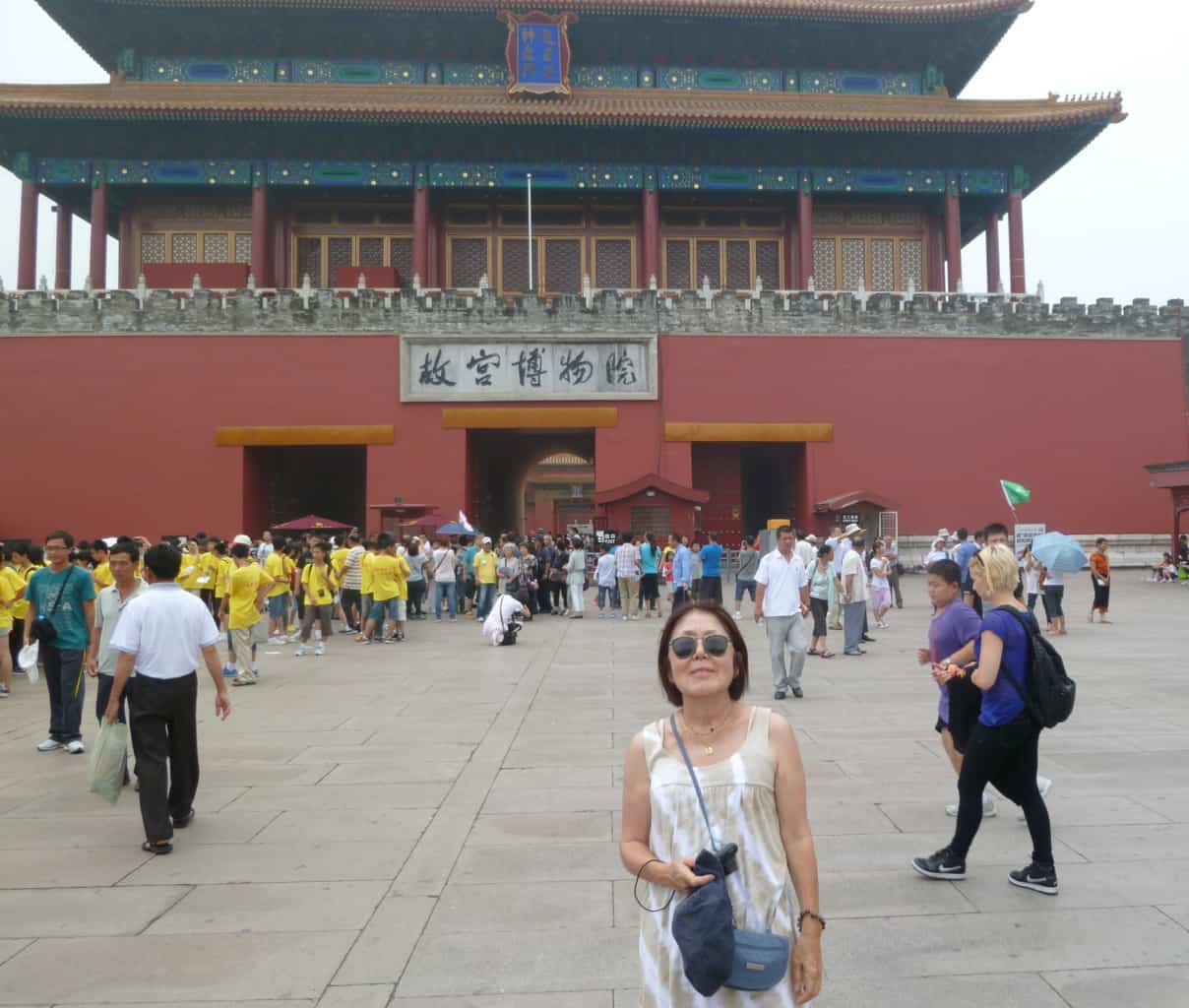 We arrive in Beijing, and you can feel the intensity… there are people everywhere and roads filled with buses, mopeds bicycles and automobiles — all part of the complexion of the city. Welcome to Beijing, the capital of the People's Republic of China.
Though Shanghai was also crowded, you can feel the pulse of Beijing because it is the political, cultural and educational center of China.
At the historical heart of Beijing is the Forbidden City, the enormous palace compound that was home of the emperors of the Ming and Qing dynasties, and surrounding the Forbidden City are rings of gardens and scenic areas, and the east and western neighborhoods that make up the bulk of the city.
We walk through Tiananmen Square, the Great Hall of the People, and the Mausoleum of Mao Zedong – it is massive, impressive, and full — its an icon of history.
Beijing was host to the 2008 summer Olympics, and we see the new structures and the birds' nest athletic building that demonstrate Beijing made every effort to be contemporary, open and welcome to the world.
The next day we walk the great wall — a series of wall fortifications made of stone, brick, earth, wood, and other materials generally built along an east to west line of the northern borders of China for protection of the empire. We think of feng shui form school and how the northern border is used for protection (the tortoise). The wall is miles long (over 13,000 miles), sturdy and impressive, especially when you consider the wall construction was begun in 7th century BC.
We are brought back to earth as this evening we are dining with Tina, our daughter's Princeton classmate. Tina has invited my husband and I to dinner – an event she promises to be extraordinary. Tina's parents are diplomats from China to the United States and she takes us to a restaurant that is only available to special Chinese and their guests. Tourists cannot just walk in for service – and foreigners are allowed only by invitation. We are taken to a special room that houses just the three of us, and we are treated to a special eight-course meal that features delicacies, food especially prepared with care, and treatment unparalleled in any country. This must be where Hillary is invited for state discussions!
Tina was brought up in Beijing so she explains to us what it was like growing up here. It is an extraordinary experience, and we are given a gift as a token of our welcome.
The next day we visit a pearl warehouse – no pressure to buy but how we love those pearls!  We are so enjoying Beijing…
This is where feng shui started thousands of years ago…then was halted by the Cultural Revolution in 1949. The result was that feng shui spread to Malayasia, Hong Kong, Taiwan, and eventually around the world.
In gratitude, Janet Mitsui Brown, www.thejoyoffengshui.com