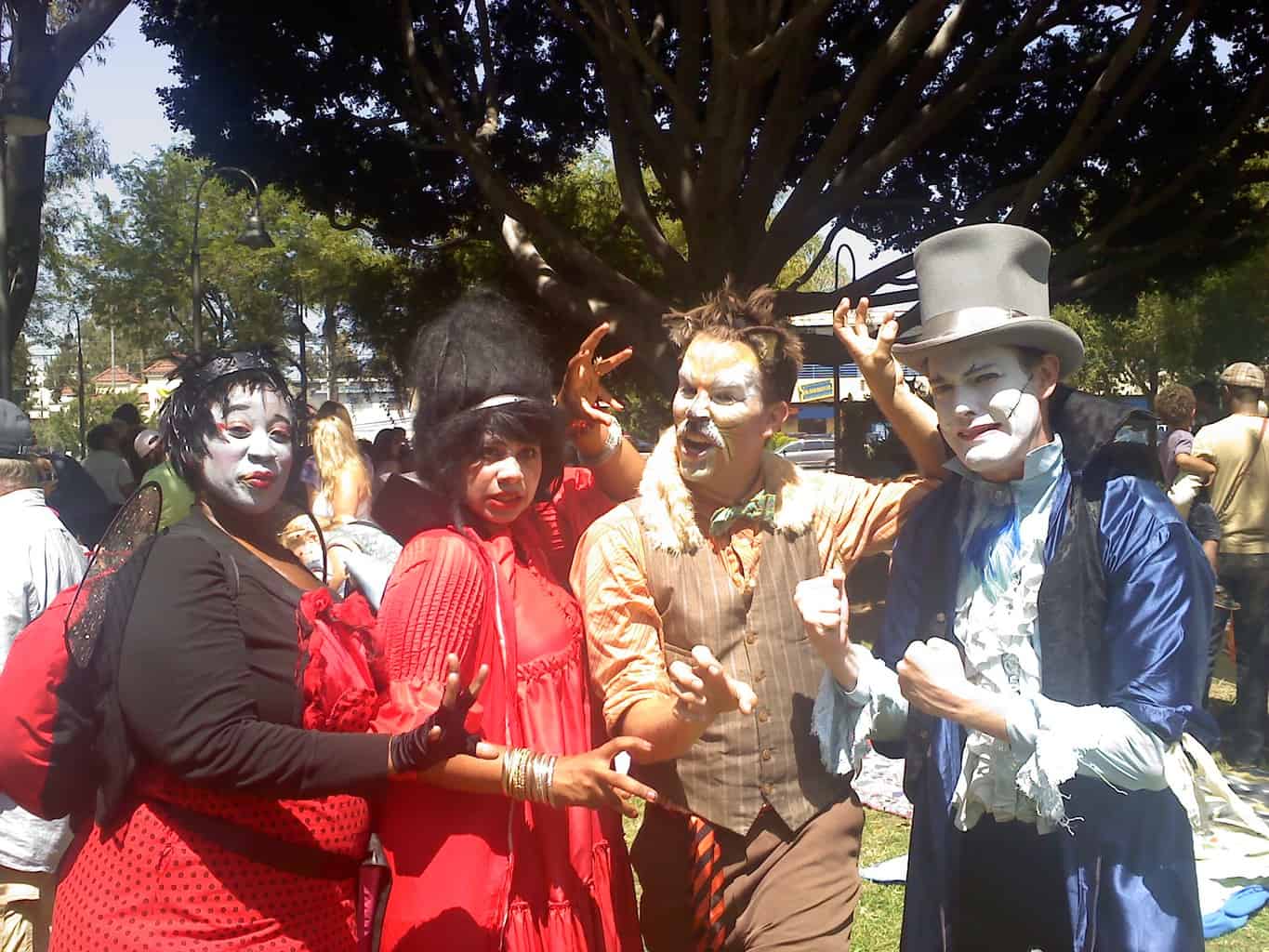 While the summer lasts, you cannot find a better place in Culver City  to spend a weekend morning than Media Park, watching the Actors' Gang play with Shakespeare's "Romeo and Juliet. " With the added subtitle "Monsters in Love," the 11 a.m. performance was a burst of creative fun that would have made Bill proud.
Taking the text of the classic tragedy as a starting point, the Gang has tweaked the play into a monster mash, all the characters costumed as werewolves, vampires, ghouls and ghosts. Giving a great leg to the choreography of Michael Jackson's famous "Thriller" video, along with some sweet fooling around with Vince Guaraldi's "Linus and Lucy," the production has a host of charming twists that lead the plot away from the original. Considering that Bill himself was rewriting a previous story to please his audience, it always gives me deep pleasure to see actors running as far as they can to move the play.
Using the monster motif to add to the magic, the role of Friar Lawrence, played by Donna Jo Thorndale, is presented as a wise woman in a kimono whose love potion not only puts Romeo and Juliet to sleep…oh, I can't give away the ending. I'll just tell you it's not what you expect.
I did enjoy the portions of text that kept to the original, and even the lines sweetly stolen from some of Bill's other plays. Adam Jefferis did such a great job as Mercutio, (Romeo's garrulous friend,) I was disappointed that the 'Queen Mab' speech didn't make it in. Still, when you are cutting a five-act play down to less than an hour, something has to go.
Featuring the enthusiastic Molly O'Neill as Juliet and an endearing Nick Huff as Romeo, the production had to fill the open air in Media Park with great voices, big gestures, and a love of story telling. It did, and more than that, it gave dozens of Culver City families a morning of Shakespeare in the park. Shall I compare thee to a summers day ? Just go and enjoy.