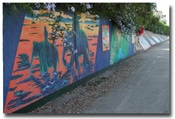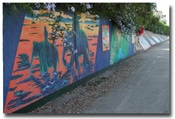 "When I see public art in Culver City, I feel good about being part of a city that values art and thinks it should be available to everyone," says Corinne Lightweaver, local artist and member of the Culver City Art Group. The chance to get involved and help raise funds for the Rivers of the World mural is coming up at an event on Sunday, Septe­­­­mber 12 from 2 to 5:30 pm
A fundraiser and live street art event will take place at Zakheim Conservation Studio, 3633 Eastham Drive, Culver City. The goal is to raise awareness for the protection, restoration, and preservation of all Culver City murals.
Enjoy an afternoon of arts and entertainment. Meet renowned artists and celebrities including mural artist Art Mortimer and artist/actor Thom Bierdz of The Young & the Restless.
There will be a panel discussion with Shakuntala Zakheim, art conservation specialist; William Brutacao, famed attorney in the Kent Twitchell million-dollar Visual Artists Rights Act case; Lucy Blake-Elahi, public artist; and Ricardo Guerrero, Graffiti Lab Director. RAWartists.org, a non-profit national artist and environmental group, will be documenting the afternoon, making the stop on their national tour.
Lightweaver noted "I never noticed the Postcards from Ballona mural (on the bike path behind the Julian Dixon Library) when it was covered in graffiti. Now that I have had a role in restoring it, I visit it often and take action if I see graffiti or weeds blocking it."
The Postcards from Ballona mural was successfully restored last year thanks to the efforts of the city contracting one of the original mural artists, Lori Escalera, and approximately 90 local volunteers. This spring Day to Night mural in Syd Kronenthal Park was also restored, lead by Escalera and the help of community volunteers. The Rivers of the World mural, also located on the bike path at Duquesne Avenue, is the latest in a series of community murals to be renovated. Since its completion in 2000, the mural has deteriorated due to wear, vandalism and graffiti. Its restoration is scheduled for November 12-14.
At the fundraiser you will also see live spray art by Timoi De Leon, Lesley Perdomo, and Jony "Broak" Tolentino. Renowned street chalk artists Lorelle Miller, Juliana Martinez, Lucas De La Torre, and Gustavo Lozano will demonstrate their skills. Live music will be provided by Craig Small and the exotic Anna Homler.
Suggested donation is $25 per person or $75 for a family of four. Make your payment by September 1 and receive $25 credit on art auction items starting at $50. You can make your donation through Paypal at www.ballonacreek.org or send a check (payable to Ballona Creek Renaissance) to: BCR, PO Box 843, Culver City, CA 90232.
Got questions or want to get involved? Email Lori Escalera: [email protected]
Sponsored in part by Ballona Creek Renaissance 50-c3, RAWartists.org, Laird Plastics, Sorrento Italian Market, Culver City Trader Joe's, and your neighborhood Sprouts Market.