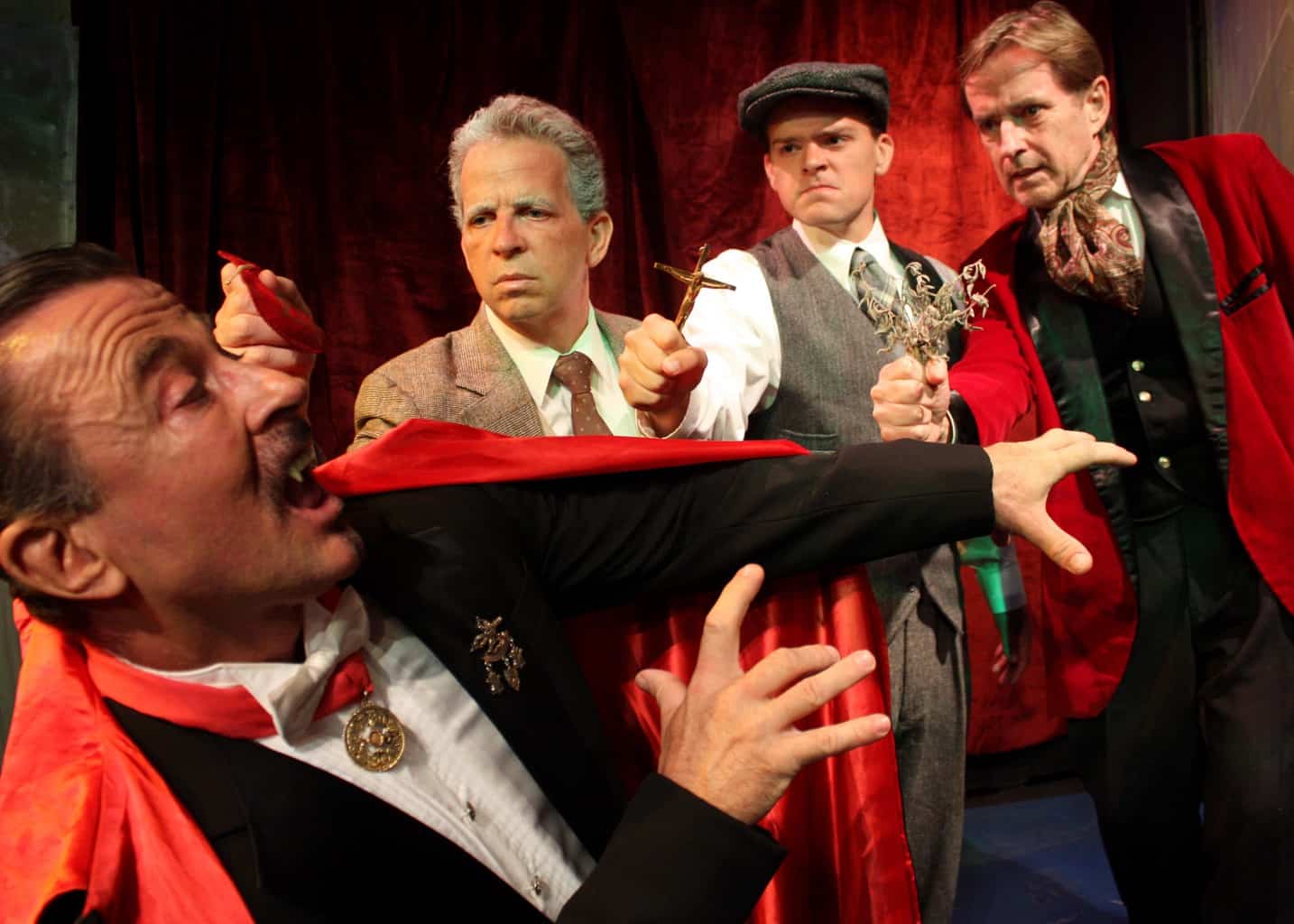 Join Kentwood Players as they delve into the famously haunting story "Dracula" as dramatized by Hamilton Deane and John L. Baldeston, based on the novel by Bram Stoker, from September 10 to October 16 on Fridays and Saturdays at 8 p.m. and Sundays at 2 p.m., at the Westchester Playhouse located at 8301 Hindry Avenue in Westchester . The production is directed by Shawn K. Summerer and produced by Alison Mattiza and Elizabeth Bouton Summerer. Featured in the cast are Samantha Barrios, Marlee Candell, Paul Guay, Ben Lupejkis, Ken MacFarlane, Daniele Manzin, Jeffrey Olin, and Gary Shaw as Dracula.
"Dracula" is a chilling and spooky tale about a bizarre illness fallen upon Lucy Seward, daughter to Dr. Seward, owner of an English Sanatorium in the early 1900s. Dr. Seward and Lucy's fianceé, Jonathan Harker, call in the help of Professor Van Helsing, an expert in the macabre. Their search for answers leads them deeper and deeper into the terrors of the unknown and the unthinkable. Could a vampire be the answer to this chilling mystery?
With Halloween just around the corner, Kentwood Players invites you to enjoy "Dracula" with the whole family ages 10 and up. Tickets are $18.00 with a $2.00 discount for seniors, students, and servicemen. To purchase tickets, please call (310) 645-5156 during box office hours, Tuesday through Saturday from 4-7 PM. Visa, MasterCard, and Diner's Club accepted. You may also purchase tickets online at www.kentwoodplayers.org. For group ticket sales, please contact Calia Mintzer-Wolf at (310) 837-3609.
For more information about Kentwood Players including our current productions, upcoming auditions, and our Kentwood Kids Children's Theatre Classes, please visit the Kentwood Players website at www.kentwoodplayers.org. And you can also sign up and be a Kentwood Players friend on Facebook and My Space.
Please join us at the Westchester Playhouse, home of the Kentwood Players, for our next meeting to meet the "Dracula" production team and learn more about our upcoming season of shows. You'll have the opportunity to meet and get involved with our very professional and talented group of producers, directors, actors and designers as we celebrate 60 years of presenting great entertainment. Our meetings are free to the public and are held on the third Wednesday of every month at 8:00 PM. Westchester Playhouse is located two blocks west of the San Diego Freeway and two blocks north of Manchester at 8301 Hindry Avenue in Westchester, CA 90045.