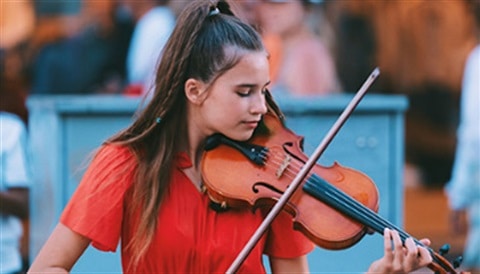 California Premieres! is the opening concert of the first full season as Orchestra Nova LA. This concert is truly a concert of firsts. The newly launched orchestra will participate in the first California Festival: A Celebration of New Music (www.cafestival.org) by presenting the California premiere of a patriotic new work by Adrienne Albert entitled Homeward Bound.
A statewide initiative conceived by the LA Phil, and the San Francisco and San Diego Symphony Orchestras, California Festival: A Celebration of New Music showcases California's most compelling and forward-looking voices in performances of works written in the past five years.

Orchestra Nova will present fifteen-year-old violin prodigy Karolina Protsenko, who will perform the Mendelssohn violin concerto in her first performance with a full orchestra. Karolina Protsenko is a classically trained violinist who studies with Sam Fischer in Colburn School of Music. Born in Ukraine, she moved to the United States in 2015. She became a YouTube sensation and is well known all over the world for her violin performances of popular songs. 

The program for the eveing will be Homeward Bound by Adrienne Albert; Violin Concerto in E Minor by Felix Mendelssohn (Karolina Protsenko, violin); Ballet Suite by Manuel de Falla; and Bolero by Maurice Ravel.
A reception will follow the performance.

Newly established under the baton of Maestro Ivan Shulman, Orchestra Nova LA's mission is to invite our audiences to immerse themselves in the rejuvenating capacity of music. Orchestra Nova LA will pursue its commitment to provide equal opportunities for any qualified artist to perform music with us that is relevant to the interests of the communities we serve.
This concert is supported, in part, by the Los Angeles County Department of Arts and Culture and by the City of Culver City and its Cultural Affairs Commission, with support from Sony Pictures Entertainment and the Culver City Arts Foundation.
Saturday, November 11, 2023, 7:30 PM – 9:30 PM
Veterans Memorial Auditorium, 4117 Overland Avenue, Culver City,