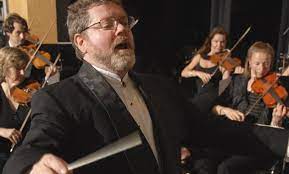 The Culver City Symphony Orchestra invites music lovers to the opening concert of its 2023/24 season, with its new Music Director-Conductor, Maestro Clyde Mitchell on Sunday Nov. 19 at 7:30 pm at the Robert Frost Auditorium. 
The concert marks the end of the California Festival, a 2-week statewide music initiative showcasing the most compelling and forward-looking composers of works written in the past five years. Our program will include three recent works, including the world premiere of Circle Overture by renowned Los Angeles composer Craig Safan, commissioned by the Culver City Symphony Orchestra to mark this occasion.
Clyde Mitchell was an accomplished French horn player, including as Principal Horn of the Montréal Symphony, before turning to conducting. He was the Resident Conductor of the Vancouver Symphony for nine seasons, and is currently Music Director of the Lions Gate Sinfonia and Youth Orchestra of North Vancouver, Canada. He has been a guest conductor for the Toronto and Montréal Symphonies and other Canadian orchestras as well as numerous engagements in Europe, Asia, South America and the United States. Mitchell now lives in Los Angeles. He conducted our February 2023 concert and, in 2022, he conducted the Marina del Rey Summer Symphony in Burton Chace Park.

The program also includes works by Florence Price, Gabriella Yorke, Brooke deRosa and Johann Strauss II, and ends with the Symphony No. 1 of Johannes Brahms.