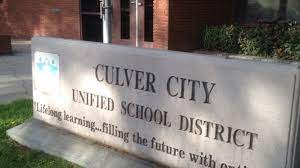 At the Culver City Unified School Board meeting on September 12, 2023, the board voted to unanimously approve an updated 'Memorandum of Understanding' with the Culver City Police Department in regard to the use of School Resource Officer.
While some members of the CCUSD community have been very vocal about feeling that the school campuses are not safe for students, others have been equally concerned that police on campus are representative of the same problems that police present everywhere in the country; our officers are not exempted from racial and gender bias, and some students are much more heavily 'policed' than others. 
School Board member Triston Ezidore offered that "This decision allows us to modernize our existing 20-year-old MOU, and I'm confident in our support for it as long as we continue engaging in robust, ongoing, and tough but necessary conversations about the root causes of violence, campus climate safety, and restorative practices."
The MOU is framed as a one-year agreement – from July 1, 2023 to June 30, 2024, but many be extended by mutual agreement. 
The obligations include responding to calls for service, supporting school administration in utilizing restorative justice and addressing non-violent criminal offenses. 
The schools are agreed to "Work collaboratively with CCPD to make needed adjustments to the program during the school year."
Judith Martin-Straw