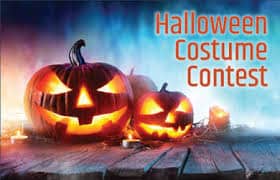 Getting ready for a safe and fun Halloween at home? Check out the "Home is Where the Haunt is" section of our Parks, Recreation and Community Services Virtual Recreation Center (www.culvercity.org/virtualrecreation). The site features Halloween activities & games, recipes, arts & crafts, virtual haunted tours and so much more!

As part of our "Frightfully Fun Halloween Activities to do from Home," the PRCS Department will be holding its first ever PRCS Costume Contest. Get your costumes prepped and camera ready!

Check out the Instagram-based costume contest rules below:
(1) Photos must be posted on Instagram between Sunday, October 25 and midnight on Sunday, November 1, 2020;
(2) Participants must be wearing a mask in their best 2020 Hallo-chic;
(3) Please tag @culvercityprcs and @culvercitygov; and,
(4) Use the hashtags #culverhalloween and #costumecontest2020

There will be three winners total, one in each of these categories:
– Kids (18 and under)
– Adults
– Quarantine-mates

The three winners will receive a swag bag, bragging rights and their photo will be featured on the Culver City website. Please remember that your costume should be family-friendly.

If you have questions about the costume contest, contact Jeannine Houchen, Recreation and Community Services Supervisor, via email at [email protected] or by calling (310) 253-6689.