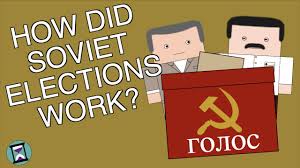 While the Wende Museum is focused towards the history of the Cold War, there is much we can all learn about the present moment from listening to the past. 
Ballot Space: Soviet Elections in Perspective, with Arch Getty, Distinguished Professor of History at UCLA will speak on the scope and meaning of general elections in the Soviet Union and in modern-day Russia, and explore differences and similarities with the American November elections.
Hosted via Zoom on Wednesday, October 21 at 12 p.m. PST – register here: https://us02web.zoom.us/webinar/register/5016019134380/WN_IoinudhfQuGLbaXT8-PxAQ

Looking ahead – Protest Space: Identity, Culture, and Resistance in Belarus, with Dr. Sasha Razor, a native of Belarus and an alumna of the UCLA Department of Slavic, East European, and Eurasian Studies. Dr. Razor now works at the Museum of Russian Culture in San Francisco.
Hosted via Zoom on Wednesday, October 28 at 12 p.m. PST – register here: https://us02web.zoom.us/webinar/register/7416026972517/WN_QTxo9yHXSgi5fUTkp5Fm8w

Cold War Spaces is a weekly interview series hosted by Joes Segal, the Wende Museum's Chief Curator and Director of Programming. Watch past programs here: https://vimeo.com/showcase/7073507