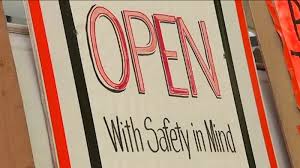 Today the City of Culver City issued a new Public Order that permits additional sectors including personal care establishments and bars to reopen as of June 19. The City order mirrors the Los Angeles Department of Public Health (Public Health) Order issued yesterday. Businesses must implement the Public Health sector specific protocols for infection control and distancing before reopening.
Reopening now can  include Personal Care Establishments (i.e. nail salons, tanning salons, esthetician, skin care, and cosmetology services; electrology, body art professionals, tattoo parlors, and piercing shops; and massage therapy (in non-healthcare settings) with Sector Specific Protocols. In addition, Bars, Winery and Brewery Tasting Rooms with Sector Specific Protocols 
Public Health continues to monitor the spread of COVID-19 and the capacity of the healthcare system to provide residents with essential services. Los Angeles County continues to be in Phase 3 of the State's Resilience Roadmap. However, this major step forward does not mean the threat of COVID-19 is gone.

If at any time, the County's rate of infection and other key metrics demonstrate a rapid acceleration of new cases that threatens to overwhelm the healthcare system, Public Health and the City may need to limit future re-openings or close reopened sectors.
Going to the salon, visiting a winery or spa will be very different from before the pandemic. Each sector reopening will have strict infection control directives in place. More information is available at the Public Health website.

Still closed are lounges and nightclubs; public entertainment venues: movie theaters, live performance theaters, concert venues, theme parks, and festivals; family entertainment centers such as bowling alleys, arcades, miniature golf, and batting cages, Indoor and outdoor playgrounds for children, except those located within a school or childcare center; hot tubs, steam rooms and saunas not located on a residential property.

The City's Order also requires all persons wear a cloth face covering over both their nose and mouth whenever they leave their place of residence and are or can be in contact with or walking near or past others who are non-household members in both public and private places, whether indoors or outdoors. This includes wearing a cloth face covering when patronizing a business.

For more information please visit the City of Culver City's Coronavirus webpage at www.culvercity.org/live/public-safety/emergency-preparedness/current-disaster-information
If you or someone you know have questions or need non-emergency assistance, call the Culver City Coronavirus Hotline at (310) 253-6890 (Monday – Friday, 7:30 AM – 5:30 PM) or email us at [email protected].