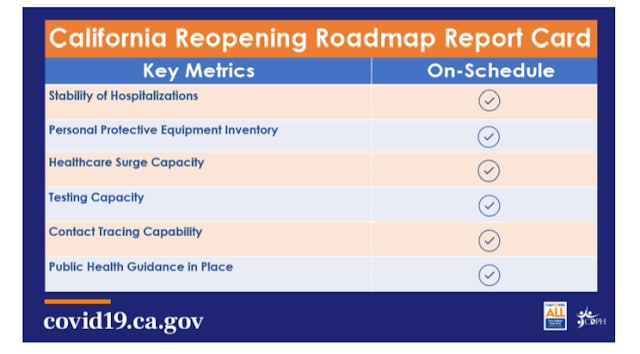 On May 4, 2020, along with the State's COVID-19 Report Card, California Governor Newsom announced that he will release new guidelines on May 7. The guidelines will provide a framework to counties and cities to begin moving into the early phases of Stage Two of the four-stage reopening process (i.e., opening of specific lower risk workplaces with modifications and adaptations).
Conditions vary widely across California.
As Culver City is nestled in a densely populated county, which has seen over half of the COVID-19 deaths in the State, we will continue to monitor and comply with the guidance of local health officials and move in concert with fellow cities in the region. Currently, the local Safer at Home order is set to expire on May 15. We look forward to sharing additional information as it becomes available.
To read the state's COVID -19 Report Card, go to www.gov.ca.gov/wp-content/uploads/2020/05/5.4-Report-Card-on-California-Resilience-Roadmap.pdf
City of Culver City