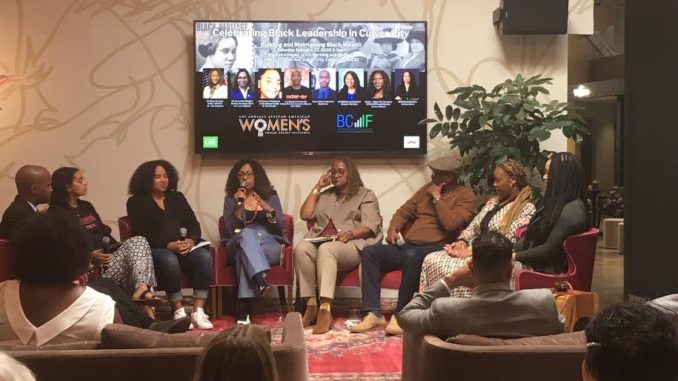 "Black people do not have the luxury to not engage politically in our community at every level." State Senator Holly Mitchell put it square in the center from her seat on the panel of the Black History Month discussion at Blackbird House Co-Working space on Feb. 22, 2020.
The conversation had been organized by Culver City council member Daniel Lee as the second in a series of events focusing on celebrating February with the black community; a formal title of 'Black Leadership, Black History and building and maintaining Black Wealth' opened an afternoon of rich observation and powerful thoughts.
The panel, hosted by Lee, also featured Assembly Member Sydney Kamlager-Dove, Dr. Tina Wright of Southwest College, Culver City School Board President Summer McBride, Black Cooperative Investment Fund Board Vice-President Melanie Mack, Pete White, the Executive Director of LACAAN and Culver City Business Owner Janiece Russell.
It was first chance for many in the crowd to enjoy Blackbird House, a new co-working community space in Culver City, and the elegantly designed meeting room comfortably held a crowd of almost a hundred.
The wealth gap between people of color and non-minorities is huge in America, and blacks were statistically hit harder than any other group in the financial crash of 2008. Blacks' homeownership rate plummeted nearly 6 percent to 46.2 percent since its peak in 2004. That's more than twice that of any other racial or ethnic group, as well as the nation's rate as a whole, which fell only 2.3 percent, according to U.S. Census data.
The strategies offered by the leaders on the panel reflected their specialities, with Wright and McBride focusing on education and the need to cultivate skills that might not be taught at home. Wright even noted that she assigned her college sociology classes in some basic civics exercises; "I have them write to their Congress reps, I have them write a letter to the editor of the LA Times – they need to connect. They need to know their voices matter."
Mack, who is in the business of funding business, candidly observed, "We as African Americans are continuously, routinely turned down from traditional funding opportunities." Her business offers micro loans to small businesses, among other financial services, giving many entrepreneurs a crucial step in a start up. 
Assemblymember Kamlager noted that in her time on the Los Angeles Community College Board of Trustees, the multi-billion dollar portfolio that they had to invest was looked after by only by a group of white, male hedge fund managers. "We had a lot of very uncomfortable conversations about the need for diversity and equity. And many people on that board just didn't even see it as a problem."
By the end of the discussion, many questions had been posed in response to the issue at hand: "Do we trust each other with our money?" "How do we train wealth building in assets and not consumer driven wealth?"
"The groups of people we are talking about today do not have the luxury to not engage," said Wright. She continued, "join an organization that stands for a cause you believe in."
Elizabeth Moss
Judith Martin-Straw