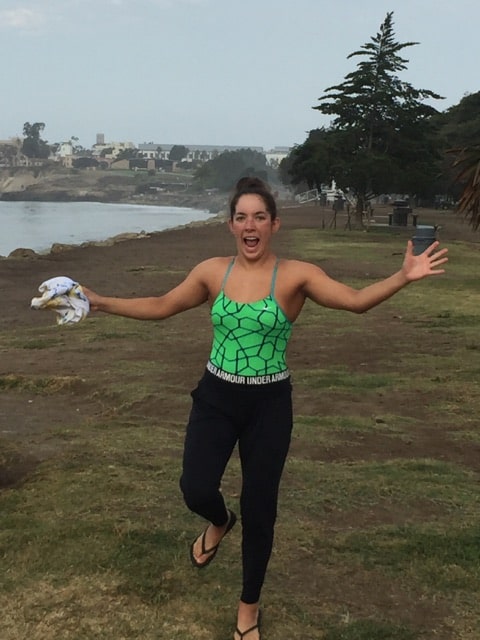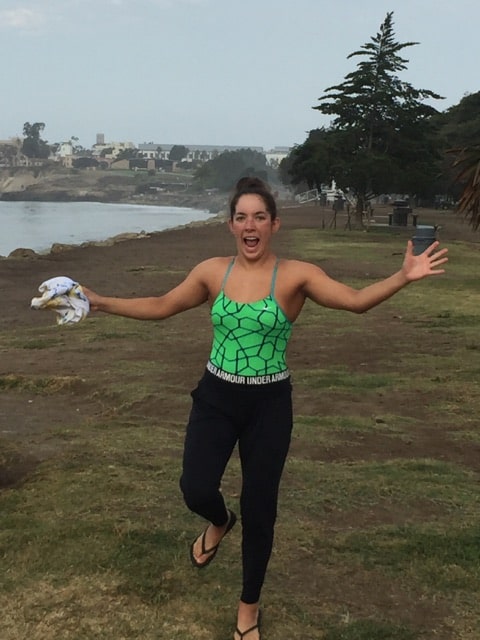 The swimming career of Abby Bergman just hit the milestone she's been dreaming of for years; on July 31, 2017 she swam the 21 miles of the English Channel in 13 hours and 15 minutes. This local water woman, currently a student Smith College, did a Catalina swim last July but the international standard of distance ocean swimming – the English Channel – was her goal to conquer.
Bergman exclaimed, "It hasn't sunk in yet that I did it. It's crazy to accomplish something I've been dreaming of for so long,  it will take a while for this one to sink in."
Swimming in 64 degrees through strong currents and choppy water, she had recent Smith graduate and distance swimmer Paige Christie as a support,  as well as recently retired Smith College Swim and Dive Coach Kim Bierwert who 'never took his eyes off of her.'
Citing the English regulations for swimming the channel, she noted " I was allowed to swim in one regular swim suit, one cap, and one pair of goggles. Yep, this means no wetsuits allowed! I [protected my skin] with layer of grease (1/2 vasoline, 1/2 lanolin) to help with chafing from the salt water."
Feeding every 30 minutes on carbo pro in warm water, with applesauce as a treat, and her captain gave her chocolate toward the end for extra energy.
There were reported to be lots of jellyfish, and Bergman said she "got several stings but didn't [they] hurt as much as Catalina jellyfish.
While Abby Bergman lets herself soak in some sweet satisfaction, Culver City can be proud of an internationally acclaimed ocean swimmer.