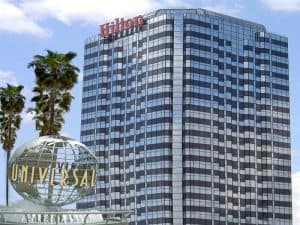 A Hankering for Hiltons —
I love staying at Hilton hotels. I am not, nor have I ever been an employee of the company, although at one time I did own some stock, and one of my most beloved bosses was a former Hilton executive. I have been a frequent stayer at Hiltons since my earliest travels, and remain a "Hilton Honors" member, although I've yet to redeem any rewards. I just love me a stay at a Hilton, and I'm exploring why I am so drawn to the brand.
I've had the opportunity to stay at some of the most iconic Hiltons, in major destination cities of New York, Tokyo, Las Vegas, Los Angeles and Havana. When on road trips to smaller towns and suburbs, where Courtyard Marriotts usually do the best, if not the cheapest, job of the bed/breakfast/free parking gig, I've gone back to searching among Hilton-branded Garden Inns, Doubletrees and the like. I am most excited when I know I'll be staying at a building that was built as a Hilton, and has remained as a Hilton. I research the histories of hotels, which further enriches the experience.
Of the above-mentioned Hiltons, three are not Hiltons any longer. Two have been renamed, and are no longer owned by the Hilton corporation: the Las Vegas, and the Havana, but they stand in their original footprint. The Los Angeles Hilton, after becoming the Wilshire Grand – its current form still apparently called Wilshire Grand – was brought asunder to the depths of its former parking garage, and obliterated. As a Los Angeleno, I was occasionally present for the agonizing process, and it was hard to watch. I stayed at least once at the Los Angeles Hilton, but I had a more intimate relationship with the place; I worked in the building, in two separate incarnations.
My first job at 900 Wilshire was as manager of the American Express office located on the corner of 7th and Figueroa. I have to say it: except for the joy derived since October 1994 and December 1996, respectively, as the mother of my two successful sons, my time as manager of that American Express office stands as the best time of my life. My explanation why will be for another piece of writing, so back to the LA Hilton. I'd drive downtown in my red SR5, show up in the valet parking garage, hand the keys to attendants who I came to know by name, then walk across the lower lobby, and open the glass doors to my beloved travel service office. I supped and/or lunched at every eatery in the place for business and pleasure. Most permanently etched in my memory was the Japanese restaurant located off the main lobby. The second time I ended up working in the same building, coincidentally, was between 1999 and 2002, for HIS Travel.
The Havana Hilton has not even been a Hilton since January 1, 1959. This date is significant, because it's the day Fidel Castro walked in and took over the hotel as his headquarters. It's been called the Havana Libre ever since, and on my recent (first) trip to Cuba, I made it my business to stay at this particular property. People can go to Cuba these days and stay in Airbnb's, or in refurbished (or not so refurbished) classic Havana properties such as the Inglaterra or the Sevilla, but I wanted the original Hilton, and I got it, complete with its Hilton-style buffet, Hilton-sized pool, and the ghosts of its casino past.
The still iconic no-longer-a-Hilton Hilton is in Las Vegas; this one I knew before Hilton bought it, as the International Hotel. I stayed there as a kid with my family shortly after it opened. Among other memories, my most vivid one was being handed a stack of black, shiny postcards with Elvis on them by a maid in an elevator; she was like, "Here, have a bunch of these, honey, Elvis is making his comeback here." Although I didn't really know what a comeback was, he did just that, and was associated with this hotel (not yet built during the filming of Viva Las Vegas) until his premature passing.
Tokyo's Hilton was in Shinjuku during most of the 80's and 90's, and I came to know every inch of its public space, and often stayed there, too. The original Tokyo Hilton, where my dad stayed in 1973, turned into the Capitol Tokyu Hotel, and was a remnant of mid-century style and grace. There is no more welcoming and pleasant an experience than checking into a Japanese hotel, with its service delivered with a bow and a かしこまりました (your wish is my command). New York service may not always be as consistent, but the Hilton on 6th Avenue stands as it was, unchanged of ownership or name, and I'd stay again in a heartbeat, and nearly did earlier this year. My first stay was a trip there, by myself, in 1985.
The Washington Hilton, where I just stayed, is the site where President Reagan was shot, but the pool area was our oasis, and a kind registration clerk allowed us early check-in and late check-out. The Milan Hilton, near Centrale Station, was where I once was lucky to get dinner on Christmas, when nothing else was open in the city. Never did stay at a Hilton in Hawaii, but the Kahala and Hawaiian Village prove my point about iconic.
I enjoy hotels that are not just places to sleep, but destinations in their own right, and Hiltons often qualify as historical landmarks. The franchise expanded with the proliferation of jet travel in the late fifties and early sixties, as portrayed on Mad Men. I joined the international travel business a mere twenty years later, in 1984, so that familiar "H" logo whets the memories of my higher flying days.