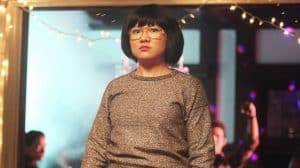 Sometimes, seeing someone in a new context can be so startling that they are unrecognizable, but fans of long time YMCA trainer Mallory Low are used to seeing her in new ways. As an actress, she's been in films and television for years. Her biggest role yet, in an HBO pilot, has gotten her lots of applause for her charming portrayal of the vulnerable and gutsy Charlyne. While the pilot cast and crew is waiting to hear about more episodes, Mallory had a moment to talk about how it all got so – um – F**ked Up …
How did the show come about and how did you get connected ?
F**ked Up was a pilot that was developed through HBO's Writer's and Director's Fellowship. There was an initial casting call for it that, funny thing, I wasn't able to make. So, I sent a self-tape instead. A couple weeks later, I got a call saying that casting wanted to bring me in for a producer's session and at the producer's session, they had chemistry reads, where you read with each person auditioning for the opposite roles to see if you have chemistry and gel well. I guess I gelled pretty well with the others, because I booked it!
What makes this character fun? Is she someone you'd like to hang out with ?
There is so much to love about my character, Charlyne. But, what I love most is her heart. She's at a place in her life where she has to make her own decisions without the influence of her father, so she develops this know-it-all attitude in hopes of fitting in to college life which is something very foreign to her. And through that know-it-all attitude, comes this innocence and almost quirky personality that's so fun to play. She thinks she's ready for college but is she really? There are a lot of moments, especially with her roommate Sarah, where she thinks she's saying the right thing when really it's not socially acceptable at all and comes out a little strange.
Charlyne is definitely someone I'd hang with. In fact, we are so similar. I feel like I AM Charlyne. Minus the bowl hair cut. She's ballsy, smart, funny and not afraid to speak her mind but she's also vulnerable and just wants to feel accepted. She's such a relatable character because haven't we all, at some point in our lives, wanted to feel accepted? I can imagine us ditching class together and trying to find ways to get free things from the vending machines.
When the show continues, where would you like to see it go ?
I would love to see the development of Charlyne's character through her 4 years of college. The situations she goes through, the choices she has to make and how that changes her as a person and affects her relationship in the show. Does she ever lose her virginity? If so, to whom? What kind of guy? How would that change or affect the relationship with her father? In Asian families shaming the family is a big fear.
Also, to see Charlyne and Sarah's relationship develop. They're such a dynamic duo. On the surface it seems like they are polar opposites but really they're the same. They're both f**ked up. Would love to explore Sarah's f**ked up-ness and see them become good friends! I also, would love to see the show take risks and cross boundaries! Socially, politically or even sexually and depict the truth in the society that we live in. Charlyne being Asian-American is already crossing a boundary because not all Asian girls are subdued, bookworms and goodie two shoes! We can get a little wild too!
What do you enjoy most about working with HBO? 
Working with the cast and crew was the most enjoyable. We became like a little family. I celebrated my birthday on our last day of the shoot. After the martini shot, HBO let my family come onto set, and bought a cake for me! Everyone gathered around and sang Happy Birthday. It was so special to me. I loved working with my fellow cast members and making them laugh or making them cry. I really feel that is our job as actors. To make people feel different emotions and to be open to feeling them as well. I am so blessed and grateful to have had this wonderful opportunity to work with such a supportive cast and crew. Kevin Lau, our director, trusted me and my impulses. He gave me the creative freedom to do what I felt was right for the character and was open to making different choices. He was such a great director and communicator and always brought out the best in me. We both had a huge amount of trust in each other. I just want to say that my heart is so full and I am so thankful to HBO, and everyone involved with this whole production and I can't wait for more F**ked Up episodes to come!
Judith Martin-Straw