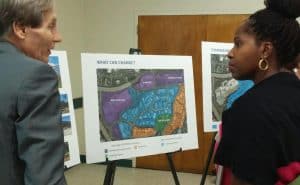 Fox Hills, a community separated from the rest of Culver City by Corporate Pointe, Westfield Mall, Symantec and others, is home to several thousand residents, most of whom stayed home Friday night.
The 50 or so who filled half the seats in the MultiPurpose room at the Veteran's Building, were interested in what the city proposes to do with their community. Some had also attended the "Reimagine Fox Hills" first meeting in July.
The massive corporate office parks, the mall, Fox Hills Park and residential areas cannot be changed, but a 72-acre parcel to the southeast between the corporate and residential sections can be changed, said Culver City Community Development Director Sol Blumenfeld. It was outlined in blue on the Fox Hills maps on display.
"We need to gauge interest in changing Fox Hills before we can make a plan," he told residents. "And we want your reaction to ideas on how to change it."
His method was to ask 16 questions culled from the first meeting. Residents showed their reactions by raised hands. Several city councilors and planning commissioners who attended did not vote.
The first two questions confused the crowd and led to a lengthy exchange before the air cleared and residents understood what they were being asked.
One resident wanted assurance the city would not change zoning without asking the residents.
"We are here tonight asking you if you want change," Blumenfeld said. "If you say yes, we will proceed with a plan, which you will get to see."
The blue changeable section was described as rundown, low rise 80s offices and surface parking areas.
"We could create an office district connected by open spaces," he said, "with new parking structures to eliminate the sea of surface parking, we could create a Main Street area."
Once the idea caught on, questions were answered more easily and quickly. Most residents favored some change. Which changes varied, but new parking structures to create 1,000 stalls in 3 or 4 high rise buildings, shuttles, shared parking, green and open space, pedestrian connectors to entertainment and recreational areas, traffic calming measures and landscaping were approved.
Less favored were affordable and senior housing, permit districts and mixed use areas. A two-block Main Street along Bristol Parkway was discussed and of interest.
Blumenfeld will also poll the property owners and business owners in the Blue Sector for their responses before taking the results to city council. They will decide to proceed with an actual plan for the area or not.
One resident remarked on the fact that Fox Hills residents had to drive all the way to the Veteran's Building for the meeting showed the lack of a community meeting space, a feature Blumenfeld added to his list.
The meeting was described as helpful by 18-year Green Valley Circle resident Sherry Caudle, who also attended the first meeting.
"It's time to move out of the eighties," she said.
Changing Fox Hills was first proposed by the Chamber of Commerce more than two years ago, said Scott Wyant, who is in favor of change. "This is the last changeable place in Culver City," he said. "The area around Buckingham is underused, a wasteland that should be improved."
Residents took home stamped, self-addressed surveys to provide more input for the city planners. Other Fox Hills residents can access a survey online at the city website.
T.S. Owen