On March 15, 2015, one of California's most original and greenest homes, located in the heart of Culver City, was the site of a benefit afternoon with Conductor Laureate of the Los Angeles Philharmonic Esa-Pekka Salonen. Musical performances included the L.A. premiere of "knock, breathe, shine" by Salonen with Calder Quartet cellist Eric Byers, and Anne LeBaron' "Four" with Formalist Quartet violinist Mark Menzies.
Among the guests joining Mr. Salonen were architect Michael Rachlin, Mayor of Culver City Meghan Sahli-Wells, and Culver City Cultural Affairs Commissioner/ music critic/ homeowner of the Briard house, Thomas Aujero Small.
With 28-foot ceilings and a suspended balcony, the home was specifically designed for musical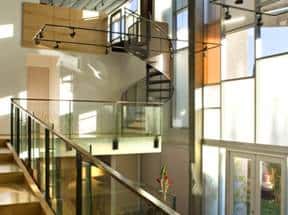 performances of a high caliber by Sander Architects in 2008. The home is built with sustainable materials, systems and strategies, making it one of California's most eco-friendly residences.
An Afternoon with Esa-Pekka Salonen benefited the Hear Now Music Festival, a non-profit organization producing an annual festival that recognizes and features new music by contemporary Los Angeles composers.
In addition to his role as Conductor Laureate of the Los Angeles Philharmonic, Mr. Salonen is also the Composer in residence of the New York Philharmonic, Principal Conductor and Artistic Advisor for the London Philharmonia Orchestra, and Creative Chair at the Tonhalle Zurich Orchestra.
Photos courtesy of Christine Anderson. Top, Esa Pekka-Salonen with Micheal Rachlin,  lower right, interior of  Braird House, and lower left Mayor Sahli-Wells with Rachlin.