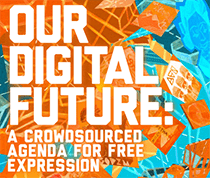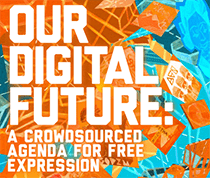 OpenMedia works hard to keep our community informed about how Big Telecom wants to control what we see and do online – most recently it was their plan to force our Internet into a slow lane1. Now, our community is head-to-head with Internet censorship through the largest-ever international trade agreement – the Trans-Pacific Partnership (TPP).
We've heard from hundreds of thousands of people worldwide2 that they are concerned that new regulations that would be imposed under the TPP could make our Internet more expensive, censored, and policed.
We need to take action now to stop the TPP Internet censorship plan from becoming a reality. Read our crowdsourced report on Free Expression – and send to decision-makers our positive vision for sharing and collaborating online. openmedia.org/DigitalFuture?src=156853#action
If we told you that over 300,000 people from 155 countries around the world came together to create this solution for how to preserve Internet freedom – would you believe it? Seeing is believing – read our crowdsourced plan and send it to your decision-makers with our tool now.
After all, the Internet is our shared public platform – all those who use it should be engaged in key decisions that will shape its future.
Our report comes at a critical time – in just a few days, industry lobbyists and bureaucrats are meeting in Canberra, Australia in an attempt to push through their Internet censorship plan.4
It's more important than ever that the pro-Internet community comes together to present a positive alternative. At OpenMedia we believe rules governing our online expression should be shaped by the people who would be most impacted by them – Internet users like you, Judith.
This report represents our shared positive vision — creating it wouldn't have been possible without our donors, sharers, and digital activists like you. Watching people all over the world come together to take back power over the Internet has been so inspiring.
That's why we need you to help us make this go viral. Read our report and send it to decision-makers in your area. Go to openmedia.org and get involved.