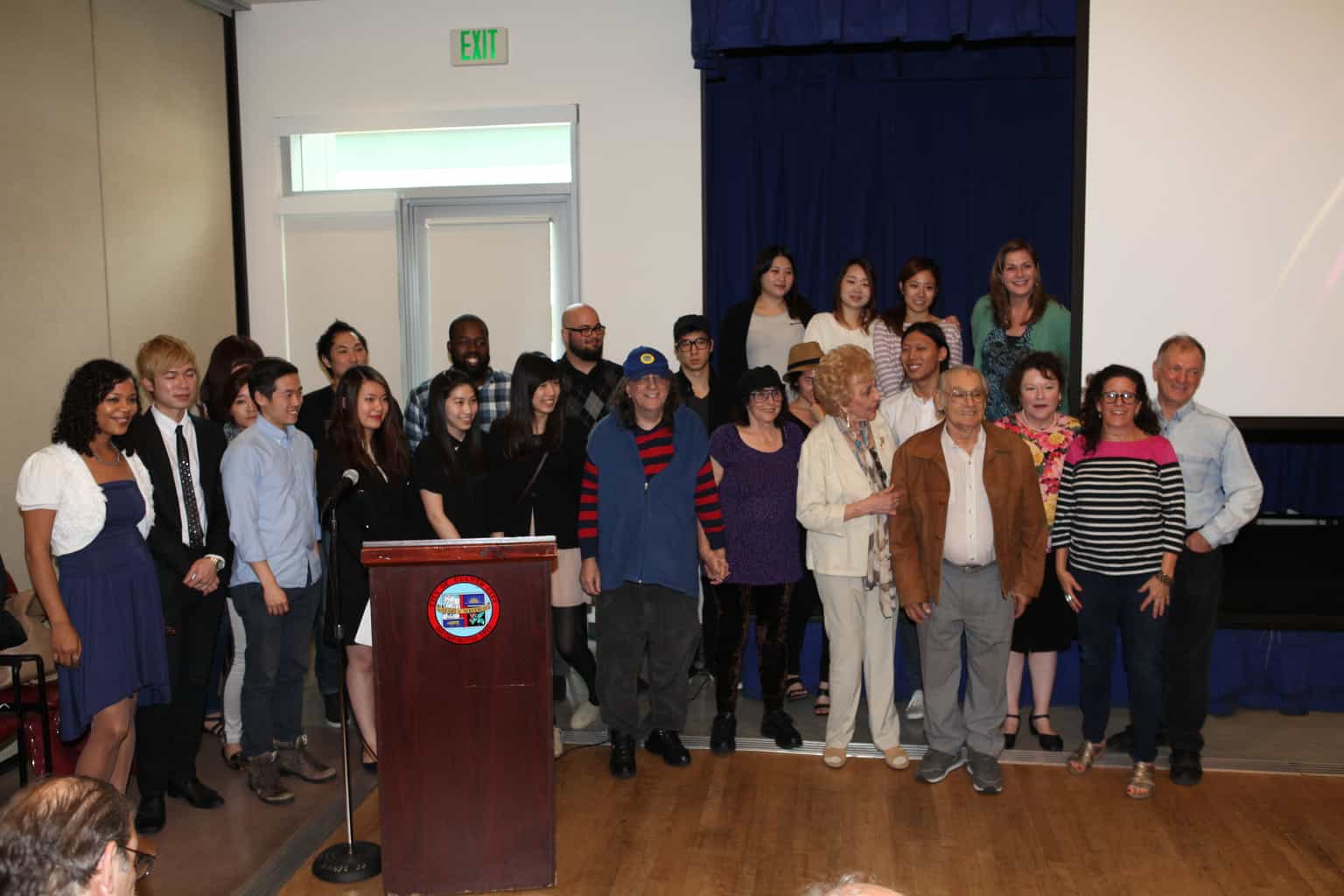 How would you feel if excerpts of your life were turned into a performance piece filtered through minds generations apart and about to be presented before a roomful of friends, family and strangers? Perhaps some combination of flattered, excited, apprehensive, curious, nervous, thrilled and awed? Maybe even a little zoned out?
Four seniors were about to find out: married couple David Katz (animator and children's book publisher) and Judith Love Cohen (NASA engineer); Fay Litwick (marketing maven at the first Chippendales in Los Angeles) and David Jenett (WW II and Korean war veteran and Mr. Fixit on KABC radio). Starting from approximately center and ending with director Laurel Ollstein on the far right.
Shakespeare's "As You Like It" includes a monologue with an opening line that just about everyone will recognize: "All the world's a stage." And on Sunday, April 14, in that special portion of the world occupied by the Culver City Senior Center, the stage was set to enjoy a live production featuring stories about four of the center's members, prepared from interviews by students at Otis College of Art and Design.
Everyone has a story to tell. Despite that famous monologue's opening that goes on to describe people as "merely players" and ends with a somewhat melancholy and bleak depiction of later life, LIFE STAGES, the brainchild of director Ollstein, made it clear that we can truly be stars in our own lives.
Ollstein is an active playwright/teacher/director with a production history that spans New York, San Francisco, Minneapolis and Los Angeles. She began her career as an actor  drawn to ensemble-driven companies that worked on new plays and adaptations of classic texts. She was a member of Tim Robbins' theater company, The Actors' Gang, for 15 years as performer and later as a playwright and producer.
LIFE STAGES grew out of Ollstein's research interests, which include community outreach programs in theater.
"I am the founder of a project called STAGES, which pairs professional writers and actors with senior citizens with a lifetime of stories to tell," she explained. "After a series of interviews the writers create theatrical monologues, dialogues or even songs, which are then performed for the seniors and their communities. It is theater in its simplest and most beautiful form, telling a good story. This program has been supported by grants from the NEA, California Arts Council and the Culver City Arts Council."
STAGES inspired Ollstein to write "Showing Our Age," a multimedia theatrical event based on more than 60 interviews. It was first produced by About Productions in April, 2008 at (Inside) The Ford and the National Center for the Preservation of Democracy.
"I have since adapted this program into a university class which I have now taught at Loyola Marymount University and Otis," she said. "The course is called LIFE STAGES – Painting a portrait with words."
She came up with the idea for the course after presenting her STAGES performances at the Culver City Senior Center.
"I saw how wonderful and yet how simple these presentations were, just telling a great story and how much it validated the senior as well." Ollstein said. "I thought that bringing a younger generation into the mix would add even more to everyone's experience. Culver City Senior Center has a very diverse and active population, which made it a wonderful partner for this project. I find that some university students know little about the world outside their very insular world. Otis has a department called Integrated Learning which addresses this issue."
Integrated Learning aims to provide all Otis students with a series of collaborative educational experiences that extend beyond the boundaries of their own major, thereby integrating disciplinary skills and knowledge within a public context.
Ollstein described her course as one in which "students learn interviewing techniques, which they put to use partnering with the Culver City Senior Center. Students are guided through a process in which they work individually and collectively to create an original script that explores personal identity, family history and compelling intergenerational issues. This course improves writing, communication and collaborative skills. It encourages a social responsibility to this under served population. The course culminates in a performance/reading at the senior center for the seniors and their families. Projections of photographs from the subjects and historical news clippings may be integrated with the readings."
She gratefully acknowledged the contributions of Debbie Cahill, "who fabulously runs the center's programs. She and I talk about possible seniors to interview. We think about what stories would have variety and also what seniors might get more out the experience. It's a wonderful validation for the seniors and an incredible learning experience for the students. And then there's the presentation where all who attend, seniors and students and family, learn about these wonderful people and their lives."
Ollstein explained that the class brings artists into the community, noting that "as visual artists, with English as a second language for several, this takes them out of their comfort zone." In preparing for this presentation they broke into groups to conduct two interviews with the seniors. Three professional actors were brought in to assist on Sunday by playing the roles of the seniors, with the male actor taking on the personas of Katz and Jenett.
The interview process that culminated in the event produced a variety of insights and impressions among the students who had conducted the interviews.
In describing Litwick, Angela Jo commented that "I interviewed a woman born in 1924 who has more spirit, humor and strength within her than many of my peers. Hearing her stories made me reflect on the importance of our older generation as a source of knowledge and inspiration."
"The only thing I knew about Fay was the fact that she had worked at Chippendales in her fifties," said Jamal Polk, who found talking to her very easy. "She had so many stories to tell and had such an interesting life and countless jobs, everything from working at a bank while it was being robbed, to teaching high school students to read and remembering how bad Angelina Jolie was as a child, to recounting how Chippendales tried to fire her for a mistake her superiors had made. But I think the most interesting conversations came when she just talked about how she felt about physically being old but mentally not being in that place."
Litwick impressed Michelle Han as "very outgoing and funny. The only thing I knew about her before the interview was that she was a housewife and worked at Chippendales after her husband died. She told us so many stories about herself, her family, all the jobs she took, places she went, men she had dated. But I think the most memorable was when she said she's old but young in the heart."
"I was in love with Fay," Elvis Duc Le proclaimed. "At first I was intimidated by her because of her years of experience and strong personality, but she was so open to talk about what was important in her life. Vivacious and always keeping herself busy, she was someone I really admired. We talked about her life in the '50s and her husband and her life at Chippendales. During the time she was talking she felt she was talking too much, but within each moment, each story, was another. It was a bit hard to take notes without missing a lot, but overall I was able to navigate through her life alongside with her."
Litwick, who is 88, married at 18 and became a widow at 50. She spoke lovingly of her husband, "Martin Michael, M and M, like M & M candies, very sweet." When she went to work for Chippendales, which at that time had a club on Overland Avenue, she experienced "nine years of the time of my life, just like in the song. I answered an ad to take reservations. That turned into office manager, public relations and marketing."
Definitely a people person, she knew how to develop a customer base. "I loved it, visiting all the major hotels, inviting the concierges to cocktail parties," she said. "After all, many men were staying at the hotels for business reasons, like conventions, and their wives were there with nothing to do. I was in touch with travel agents, and I went to army bases and would arrange for buses to bring in the ladies 50 at a time." The club audiences were quite enthusiastic as "some would jump on a dancer's back, like clinging to a tree, and would have to be peeled off!"
Since her work environment abounded in muscular men. Chippendales was not without its hazards.
"I had two cracked ribs from two different people," Litwick wryly recalled, "both times from hugging. One time there were 25 people at a 50-year-old's birthday party and I told Sam the Barbarian, the lead dancer, to come over and pick up the birthday girl. Instead, he picked me up and there went my rib. You have to remember, these men worked out every day." As workers' comp claims go, that one must have been a winner.
Litwick's philosophy is "think funny before sad. I'd rather laugh than cry. It makes it easier to survive. Take each day as it comes and make the most of it."
Jenett impressed the students as a man of many talents.
In recalling his interview of Jenett, Hwan Hee Chun marveled that although the students had thought being in the service "was the highlight of his life, we were wrong. We found out that he was very talented in fixing mechanical objects. After he got out, he not only started teaching an adult night class, but he also jumped around different houses to fix mechanical things. And then he was even on David Letterman!"
Jenett enjoyed engaging with the students and telling his life stories.
.
An enthusiastic, humorous and affable raconteur, he shared that he has a playlist of over 300 songs in his head ("I have a computer between my ears"), plays guitar and harmonica, and sang with a number of notables that included, to name just a few, Pat Boone, Kenny Rogers, Roy Clark and Mickey Gilley. As for his Mr. Fixit gig, that evolved after he met KABC's food critic, Elmer Dills, at a restaurant outing. Dills was so impressed by his skills, suggestions and demeanor that guest spots ensued, leading to Jenett's own call-in show as Mr. Fixit on KABC radio, 11 A.M. to 1 P.M. on Sundays. And the private clients for his repair services included countless celebrities.
His career could fill a book, including hundreds of appearances on television and radio, with three on Letterman and 19 on A.M. Los Angeles. ABC even sent him on a two-week tour of its morning television shows.
Jenett was painfully shy when he was young but managed to overcome it. The students, some of whom described themselves as shy, related strongly to this, finding him "funny, polite and confident," qualities they felt were well worth emulating.
"Ahead of his time and creatively innovative" was a description the students applied to Katz. Samantha Wei said the interview was "a lot easier than I thought because David had a lot to say and liked talking about his experiences. He was giving us life lessons at the same time, which I thought was interesting. He really loved talking about his wife and how meeting her really changed his life because of how different they are, and after speaking with him for an hour I felt like I understood his fun character even more."
"I was surprised that I preferred to be asking the questions as opposed to answering them," said Katz. "I felt more guarded and I struggled with that feeling since I consider myself an open person. The interview, however, did make me think about many different milestones in my life, including my struggles and how I overcame them. Because Judith and I are married and we were interviewed by separate groups who shared with each other, they asked me about things that Judith shared, and I enjoyed talking about how we met."
Fate brought them together at a Valentine's Day party. "I was like a rolling stone," he said. "I had gotten out of school at 28 but had a 21- or 22-year-old's maturity." The connection was instantaneous. "Meeting my wife was life-changing," he said. "I don't think I would have done any of the things I've accomplished without her. She's a very spiritual person, all about love, community, family."
Katz mentioned that, as an artist being interviewed by students from an art institute, he "was struck by an interesting irony. I thought about when I was nineteen and wondered what my art career would be like." He believes that "the best way to succeed at your dreams is to have successes and failures and build upon those and get stronger."
Cohen found it "a very positive experience to be interviewed. They asked me about my childhood and how I made decisions, so remembering these positive things made me smile. The fact that these people asked me detailed questions made me feel good that they were so interested in me. Their questions reminded me of what a hard thing it was to pursue engineering as a profession in the '50s. They were interested in David's role in my life: how we met, why we married and his role in our household, which were all non-traditional."
Her advice, for which her life is an example, was "find yourself. Don't let people around you tell you what you should do."
Doing what she did during a time when the glass ceilings we speak of today were constructed of concrete, Cohen's achievements were nothing short of remarkable. The students were awed, finding her to be "passionate about each part of her life, a woman who doesn't take no for an answer, and who learned everything by herself in her own way." They marveled at how she'd surmounted the many personal and professional roadblocks she'd encountered.
"She told us about how she got into an engineering field and how her husbands affected her education and work life," Natta Siripattananum recalled. "It was really hard for her at that time to study engineering because there were not many women interested in the field. She said that there were only eight girls who were majoring in engineering at her university."
"Judy was extremely easy to talk to, and after the opening question, there was almost no hitch or pause in the conversation," Shawn Kim said. "The interview went from her early life, to work, to her personal life, to her life now with books and David, and back and forth, because there were so many questions we wanted to know. There were many surprising answers, because for someone who overcame so much adversity and became so successful, she spoke of her life relatively normally."
Cohen, who had worked on systems that were essential to the success of the space program, recalled that she was pregnant at the time of the moon landing. She mentioned subsequent conversations with astronauts who told her that her work had saved their lives. She has also authored a series of books encouraging young girls to consider professions traditionally dominated by men.
Ellie Shin "was intimidated by her at first because she gave off the impression of a strong personality. However, when the interview started, she was very chill and relaxing. She seemed passionate about every stage of her life. Even raising her mom at the age of 10, she seemed passionate about that part of her life also. It was very inspiring to hear her stories about her generation where women weren't given many opportunities at all. After the interview, I was inspired and motivated to not take the rights and opportunities I have for granted. I started having a different perspective of what matters most in my life. I have a passionate and ambitious drive for whatever I am striving to go for or to be."
Four captivating word portraits were created, and in the process many life lessons were absorbed. Often dubbed "the teaching of thinking," integrative or interdisciplinary learning is intended to expand and invest study with a purpose that goes far beyond the evaluation and memorization of information related to a topic. Clearly, for Ollstein's students that purpose was met, and then some.
Too bad a time warp never existed, enabling Shakespeare to visit Culver City and see LIFE STAGES before writing "As You Like It." His monologue might have taken a different direction, illuminating the senior years with the warm, positive light emitted by Sunday's presentation.
PHOTO BY Raymond Ballard.