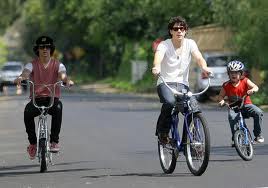 This Saturday, Lin Howe Elementary in downtown Culver City will host a free fix you bike day for children; Wednesday, Lin Howe will be joining schools from around the world to celebrate International Walk to School Day by walking from City Hall to school together with local politicians, city & school district staff; and October 4-8 the school will hold a week-long competition to see which class will have the highest number of students walking, biking or scooting to school!
Free – Fix Your Bike Day
Saturday October 2, 10am-1pm @ LinHowe
Bring your bike to school to get ready for Walk/Bike to School Week! We'll have volunteers from Linwood Howe, Bikerowave, Palms Cycle, and Chubby's Cruisers to help fix flat tires, tighten brakes, and adjust seats.
10am (LinHowe Library) Safety Presentation for parents (with kids activities) — Ron Durgin from Sustainable Streets.
11:30am (LinHowe Library) Safety Presentation for kids — Detective Gilbert from CCPD
12:30pm (playground) Pictures with police car and police dog Scout! Bring your cameras!
Walk Parade
Wednesday October 6, 8am @ Culver City Hall
Walk with Principal Anderson and city officials from Culver City's City Hall to Linwood Howe.
We will start walking at 8am sharp! Kids can bring their own signs to the walk parade about walking and biking to school. It's ok to come on bike, but please walk your bike with the parade.
Confirmed city officials: Culver City Council members, City Manager, Police Chief, Fire Chief, CCUSD Superintendent and Director of Human Resources.
School-Wide Contest Oct 4 – 8
The class in each grade that has the highest number of kids walking, biking and scooting to school will win the coveted "Golden Sneaker" Award. Please help your child to get to school this week by walking, biking, scooting.
The event is being organized by the Safe Routes to School Committee at Linwood Howe Elementary School, comprised of school and school district staff, parents, neighbors, and City staff. The Safe Routes to School Committee's goal is to make the streets leading to school safer for walking and biking, and to encourage parents to walk or bike with their children to school.
For additional local information, please contact Amy Anderson, Principal, Linwood Howe Elementary School at (310) 842-4200.