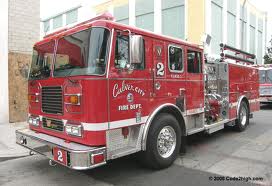 On September 14,  (hey, that's today-)  the Culver City Fire Department will begin to provide service from their newly completed fire station #3, located at 6030 Bristol Parkway, in Culver City. The new fire station is a 12,000 square foot, two-story, state-of-the-art facility. The Station was designed to provide a functional and safe work environment for city firefighters and paramedics.
Station Three is the newest of three fire stations located within Culver City's boundaries, which cover roughly five square miles, and serve a daytime population of over 200,000 people. The station will house one engine company and one paramedic ambulance, five members total, with room for additional personnel and apparatus if needed.
The new fire station is replacing the original station located at 11304 Segrell Way, which was built in 1956. The new station is the culmination of many years of planning and budgeting. Fire Chief Christopher Sellers states, "There are so many people to thank for making this dream a reality but I would be remiss if I did not mention our Public Works Department. They were instrumental in each and every phase of this project from start to finish. The City of Culver City now has a new fire station well positioned to serve the community for at least the next fifty years. I know that the members of the Culver City Fire Department appreciate the new facility and look forward to serving our community from new Station #3".