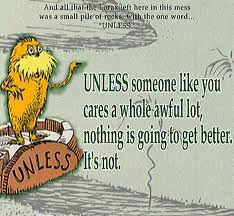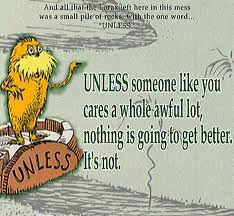 Upward Bound House enthusiastically invites the community to a special opening weekend screening of The Lorax in 3D. The event will take place at 10 am on Saturday March 3 at the AMC Santa Monica 7 Theater on the Third Street Promenade. Tickets are $25 per person and include popcorn and soda. Tickets may be purchased prior to the event at www.upwardboundhouse.org/lorax.
The movie is based on Dr. Seuss's children's book The Lorax, originally published in 1971. The animated movie features the voices of Zac Efron, Taylor Swift and Danny DeVito. The family-friendly nature of the event provides an opportunity to bring together the entire Upward Bound House community.
The movie is presented by Illumination Entertainment and all proceeds benefit the families of Upward Bound House. Natalie Fischer, Co-COO of Illumination Entertainment said that "Illumination is proud to support Upward Bound House and its efforts to eliminate family homelessness in Los Angeles."
The success of Upward Bound House relies heavily on local community support from both individuals and companies. "We are thankful to Illumination Entertainment and Universal Studios for supporting Upward Bound House and ensuring every dollar raised will help end family homelessness in Los Angeles," said David Snow, Executive Director.
The mission of Upward Bound House is to eliminate homelessness among families with children in Los Angeles by providing housing, supportive services and advocacy. Since 1997, nearly 500 families – including over 1,000 children – have graduated from Upward Bound House and are no longer homeless. According to recent data, over 6,000 children are homeless on any given night in Los Angeles.